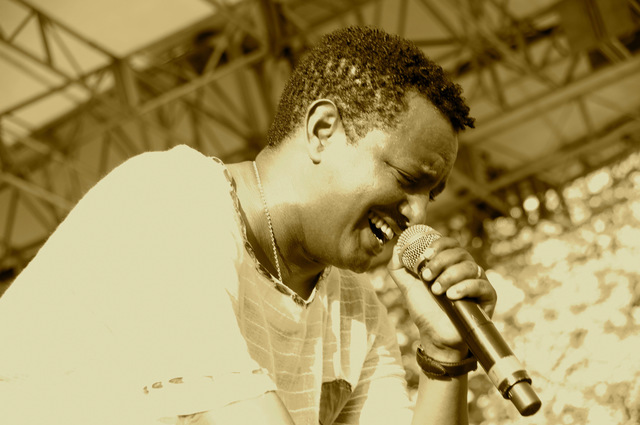 Tadias Magazine
By Tadias Staff
Published: May 13th, 2017
New York (TADIAS) – Teddy Afro's new album, Ethiopia, made the number one spot on Billboard's World Albums chart this week as "the highest ranking debut" based on Nielsen Music's tabulation of sales that measure weekly popularity of singles or albums worldwide.
I am "overwhelmed with your response," Teddy Afro said on Facebook following Billboard magazine's announcement. "Grateful for all the love and support."
The 40-year-old pop star's latest release, which so far has sold over half a million copies, builds on his previous record smashing albums including Tikur Sew (2012) as well as Abugida (2001), Yasteseryal (2005) and Yasteseryal Edition 2 (2005).
Teddy who has dominated the Ethiopian music scene for over fifteen years produces socially conscious lyrics emphasizing "reconciliation, unity, history, justice, and equality," notes the online independent music distributor CD Baby. "These subjects have gained him the hearts and ears of millions of adoring fans."
Later this month the iconic singer will also be honored with an award by the Society of Ethiopians Established in Diaspora (SEED) in Maryland. The the non-profit organization recognizes that Teddy Afro (Tewodros Kassahun) "is an accomplished and distinguished singer and songwriter who has endeared himself to the Global Ethiopian Community in general and to the Diaspora Ethiopians in particular." The 2017 SEED award will be given to Teddy Afro on May 28th "in appreciation of his tireless efforts to preserve our history and culture through his thoughtful and meaningful musical composition and lyrics that make us feel proud as Ethiopians and inspire the new generation of Ethiopians around the world, in acknowledgement of his inspiring humanitarian support to the less fortunate among us as well as in recognition of his talent as a rising star that is loved and admired by countless Ethiopians."
—
Related:
Ethiopia's star singer Teddy Afro makes plea for openness (AP)
Watch: Teddy Afro Rocks New York's SummerStage and B.B. King Blues Club — 2014 (TADIAS Video)
Photos: Teddy Afro at SummerStage 2014 Festival in New York
Join the conversation on Twitter and Facebook.