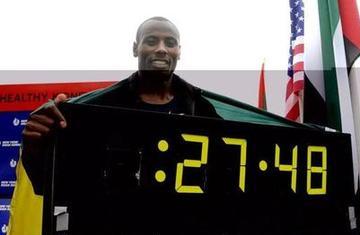 Source: universalsports.com
Sat May 16, 2009
By New York Road Runners
NEW YORK — Tadese Tola of Ethiopia made history by running 27:48—the fastest 10K ever recorded in Central Park—at the Healthy Kidney 10K. This was his second match-up with Kenya's Patrick Makau in New York City and his second win, after last year's NYC Half-Marathon, in which he edged Makau by one second.
Tola and Makau ran the first half of the race side by side until Tola pulled away in the fourth mile. Judging by his form and the ease with which he won, Tola was in control of the race from start to finish. "After mile four, we were moving at a fast pace, and I was confident I'd have the record," said Tola afterward. "This was a good course for me, and I am very happy now." Read more.
Related: Ethiopian Native From The Bronx Triumphs in
Pittsburgh Marathon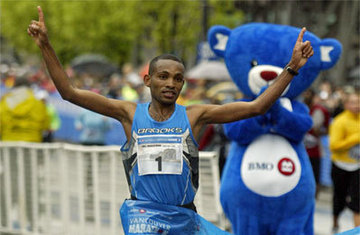 Above: Kassahun Kabiso, 23, is from Awassa, a lakeshore
town about 130 miles south of Addis Ababa. He left behind 16
brothers and sisters in 2002, and eventually ended up at the
"Mecca for African runners in New York: the Westchester Track
Club."
Pittsburgh Tribune-Review
By Karen Price and Matthew Santoni
Monday, May 4, 2009
Ethiopian native triumphs; local grad women's No. 1
in Pittsburgh marathon
They kept pace through the South Side, up Forbes Hill to Oakland, through Shadyside, Homewood and into East Liberty. Even at mile 25 of the 26.2-mile Dick's Sporting Goods Pittsburgh Marathon, Ethiopian native Kassahun Kabiso and Jim Jurcevich of Columbus, Ohio, were still side-by-side, running at a blistering pace of 5:27 minutes per mile past thousands of spectators. With just under a mile left, Kabiso widened a gap to beat Jurcevich by just three seconds with a time of 2:22:51 in the 20th running of the marathon and first since 2003. Read more.