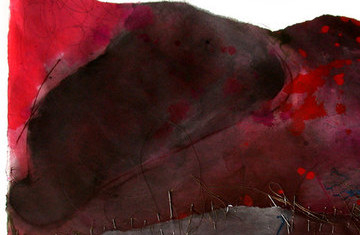 By Maymanah Farhat
Published: Monday, May 19, 2008
New York – Skoto Gallery will present Darkness Ushers Dawn, an exhibition of recent mixed media paintings and drawings by the Lebanese-born artist Sumayyah Samaha. This will be her first solo show at the gallery. (The reception is on Thursday, May 29th, 6-8pm and the artist will be present).
Atmospheric and emotive, Sumayyah Samaha's paintings are at once expressive and internal. Saturated color and overlying textures demonstrate a command of medium, giving a multidimensional feel to the work. Although abstract, the artist's compositions often allude to figurative elements, particularly those found in nature. This is most visible in Samaha's work of the late 90s in which the Catskill Mountains and the dramatic landscapes of her native Lebanon serve as inspiration. In these oil paintings, vibrant reds, rich browns and, deep blues and purples give way to imposing mountainous forms that overpower moody and tumultuous skies. Suggestive of an earth that is in constant dialogue with the cosmos, these compositions overpower the viewer with colorist interpretations of the forces of nature. In a previous series, these interpretations appeared in more evident forms such as flowers or human figures.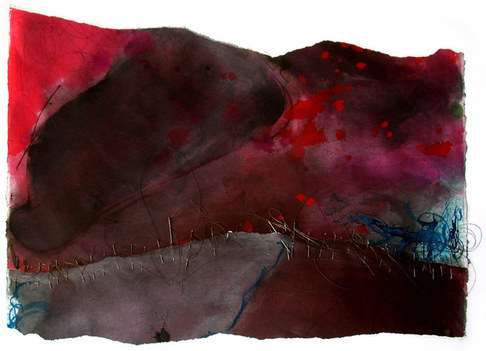 Above: The Blues, 2007, watercolor, mixed media on paper, 22.5×17.5 inches
Also included in the exhibition are several works on paper that reveal another aspect of the artist's oeuvre. In recent years Samaha has been creating work that communicates the catastrophic nature of current Middle Eastern political conflicts. After traveling to Lebanon in 2001 and witnessing the disintegrating state of political affairs in the region, she was overcome by an intensifying sense of urgency. Upon returning to New York, she began to explore different ways of articulating the delicate nature of lives held under siege. It is at this point that her work began to change, as she explored the affect of war and occupation on civilian life. Using a variety of media—including watercolor, ceramic, charcoal, monoprints and thread—Samaha strived to capture the adversities of violence. Fragile, solemn and pensive—although executed with bold hues and vigorous brushstrokes—this series engrosses viewers in a perpetual state of devastation, as we are unable to escape the profound nature of the work. Her most recent series—a departure from such mournful examples—speaks of a new stage, one distinguished by pulsating eruptions of color in which volcanic textures create depth and dimension. Such progression has inspired the title of her latest solo exhibition, Darkness Ushers Dawn.
This recent series of oil paintings has Samaha returning to her signature vivid palette. In these works we find the vertical division of the canvas, indicating an epicenter from which explosions of energy are expelled. An innate tension is evident—perhaps resonating from the previous political series—as brilliant blue, red and orange oceans crash into darker, earth-toned hues of black, brown and grey. Although it is a near-violent collision, the dramatic meeting of light and dark, these works are optimistic and speak of life and motion.
Sumayyah Samaha was born in Shweir, Lebanon in 1939. She received a MFA from the University of Pittsburgh in 1965. Samaha has been exhibiting her work since the late 1970s and has held twelve solo exhibitions in New York—where she is based—in addition to being featured throughout the United States, Europe and the Middle East. As co-founder of 22 Wooster Gallery in 1978 and an active member of the gallery for ten years, she was instrumental in creating an independent space for artists in the New York art scene. She is recognized as one of the leading Arab artists in the country.
—-
Maymanah Farhat is an art historian based in New York City.