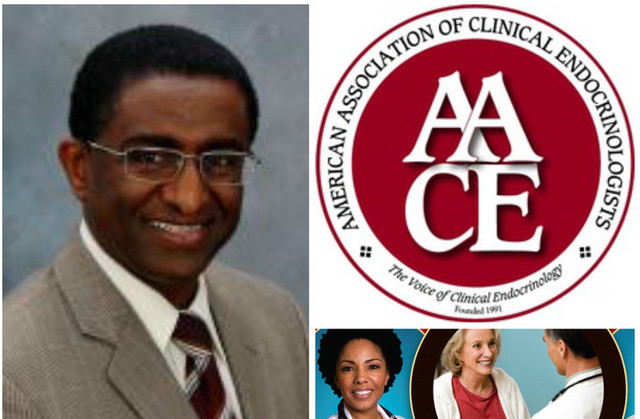 Media AACE
Press Release
Elias S. Siraj, M.D., F.A.C.P., F.A.C.E., received the Outstanding Service Award for Promotion of Endocrine Health of an Underserved Population at the American Association of Clinical Endocrinologists (AACE) 23rd Annual Scientific & Clinical Congress in Las Vegas on May 17, 2014.
The Outstanding Service Award is presented to an individual for outstanding contributions to the endocrine care, health and service to an underserved population in the United States or abroad via leadership, long-term commitment, vision, innovation and impact.
"With my origins in Ethiopia, a country with large number of underserved population, I always thought I am fortunate to be where I am and it is my responsibility to give back in whatever way that I can," said Dr. Siraj. "I am very humbled by the fact that AACE has recognized my contributions to the underserved populations in my country of origin, Ethiopia, and my adopted country, USA in such a manner."
Dr. Siraj has made significant contributions towards the education of medical students, residents and endocrine fellows at five of Ethiopia's medical schools, including a key role in the launch of the country's first Endocrinology Fellowship Training Program. He has also provided free care for endocrine patients, conducted significant research on diabetes in Ethiopians and provided leadership in organizations fostering collaboration between Ethiopian and US medical institutions or medical professionals.
Dr. Siraj is currently a Professor of Medicine, Director of the Endocrinology Fellowship Program and Director of Diabetes Program at Temple University School of Medicine in Philadelphia. He is also a Member of ABIM Subspecialty Board for Endocrinology.
—
More about Dr Elias S. Siraj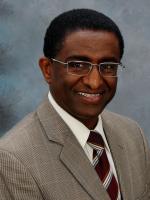 Dr. Siraj attended medical school in Ethiopia at Gondar College of Medical Sciences, Addis Ababa University. He was then awarded a scholarship to do residency and research training at the University of Leipzig, Germany. Subsequently, he completed his residency and fellowship training at the Cleveland Clinic, Cleveland, Ohio.
Dr. Siraj is board certified in both endocrinology & internal medicine, and is an active member of several professional organizations. Currently he is Board Member of ABIM Endocrinology subsection and a Past President of Philadelphia Endocrine Society. A frequent national and international speaker, he has published multiple articles, abstracts and book chapters on diabetes and endocrine disorders. For his teaching efforts at Temple University, he was given "Excellence in Teaching Award" by the Division of Endocrinology. Dr. Siraj is also very involved in clinical research and trials.
Since the days of his training in Germany in the early 1990s, Dr. Siraj has been engaged in helping his native country Ethiopia in patient care, medical education and research. In research, he has made significant contribution to our understanding of the characteristics of Type 1 and Type 2 diabetes in Ethiopia and published several papers and abstracts. Regarding patient care, he has provided free medical care to patients with diabetes and other endocrine conditions at various hospitals.
Perhaps the most important contribution of Dr. Siraj to the health care system in Ethiopia is in medical education. Over the years, Dr. Siraj has significantly contributed towards the education of medical students, residents and endocrine fellows at five of the country's medical schools. To be highlighted is the key role Dr. Siraj played in the launching of the first ever Endocrinology Fellowship Training Program in Ethiopia, the second most populous country in Africa. He was also instrumental in the creation of partnership between Temple University and Addis Ababa University.
Dr. Siraj also serves as Vice President of People to People Inc. (P2P), which is a nonprofit organization established in the US, by physicians of Ethiopian origin to support the Ethiopian Health Care system. Within P2P, Dr. Siraj has been instrumental in the conception, launching and ongoing leadership of the Annual Global Ethiopian Diaspora Conference on Health Care and Medical Education which is conducted annually in Washington, DC since 2009. He has also facilitated the creation of partnerships between Ethiopian medical schools/hospitals & partner institutions in the US.
Dr. Siraj is also an ardent patient educator and advocate for underserved people both here in the US and in Ethiopia. He has led and participated in various initiatives targeted at African Americans and Ethiopian immigrant population in the US through community outreaches, publications as well as frequent radio & TV interviews.
—
Join the conversation on Twitter and Facebook.