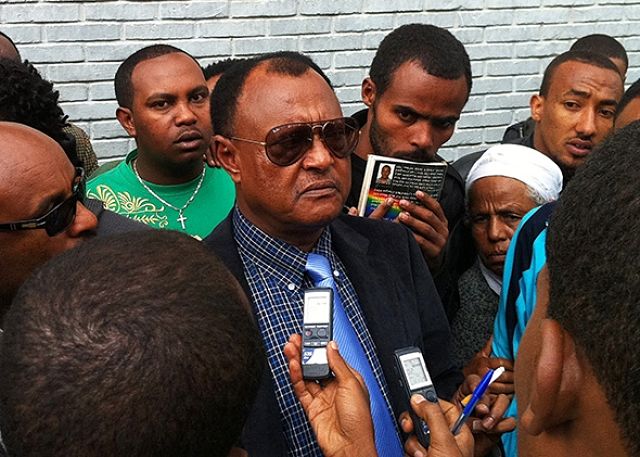 By Sarah Margon
In July 2012, an Ethiopian court charged the prominent journalist Eskinder Nega with conspiring to commit terrorist acts. He was sentenced to 18 years in prison under a broad and ill-defined law. His crime? Writing about the Arab Spring and calling for peaceful protests.
A frequent critic of the government and a prominent journalist, Nega was no stranger to detention. But these charges were the most severe—and the corresponding sentence the longest—he'd ever received. Appeals to regional bodies, findings by the United Nations that his detention violates international law, and a litany of international journalism awards all underscore the politically motivated charges that keep him behind bars.
Sadly, he's not alone.
This Sunday's elections are likely to reinforce Ethiopia's repression. Since Nega's detention, Ethiopia has taken a far more repressive turn. At least 19 other Ethiopians are languishing in prison on trumped-up charges for exercising their right to free expression. During the past year alone, six privately owned media outlets have shut down due to ongoing government harassment. At least 22 journalists and bloggers have faced criminal charges for doing their jobs, while nearly 30 more have left the country—preferring exile to the constant threat of arrest.
The authorities in Addis have never been tolerant of an open media environment, but the political climate has deteriorated dramatically. Even the upcoming elections, scheduled for May 24, have not generated the opportunities for reform some analysts had originally anticipated. Instead, this Sunday's elections are likely to reinforce the country's repression.
—
Related:
Imperiling the Right to Vote in Ethiopia (Robert F. Kennedy Human Rights)
Is Ethiopia About to Get More Than One Opposition MP? (BBC)
No Western Observers for Ethiopian Elections (VOA)
As Ethiopia Votes, What's 'Free and Fair' Got to Do With It? — The Washington Post
Washington Enables Authoritarianism in Ethiopia (Aljazeera America)
Ethiopian PM Faces His First Election Ever (VOA News)
Wendy Sherman Says Editorial on US-Ethiopia 'Mischaracterized My Remarks' (The Washington Post)
The United States' Irresponsible Praise of Ethiopia's Regime — The Washington Post
U.S. Wrong to Endorse Ethiopia's Elections (Freedom House)
Join the conversation on Twitter and Facebook.