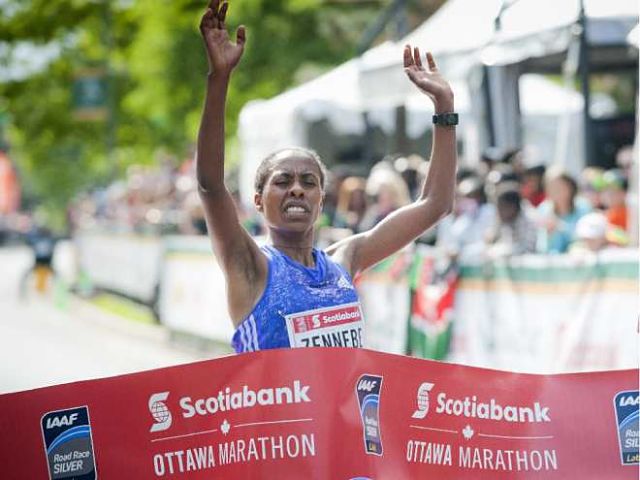 By GORD HOLDER
The races within the race were the stories behind the Ottawa Marathon on Sunday.
To begin with, there was a third consecutive Ethiopian sweep of the men's and women's titles in the 42.195-kilometre race, with Girmay Birhanu and Aberu Zennebe claiming the $30,000 U.S. top prizes from Tamarack Ottawa Race Weekend organizers.
Neither approached record times, but it wasn't for lack of trying. The elite competitors in both divisions pushed the pace well into the race, but paid for it near the end, particularly as they battled a steady headwind in the final kilometres along Sussex Drive, Colonel By Drive and the Queen Elizabeth Driveway.
"I'm very happy with the result, but I was hoping for 2:06 or 2:07," said Birhanu, who actually crossed the finish line in two hours eight minutes 14 seconds, more than 40 seconds ahead of Kenya's Philip Kangogo and another Ethiopian, Chele Dechasa, but 80 seconds off the 2014 record established by Yemane Tsegay.
The lead pack of 15 male runners dropped to a dozen between six and 15 kilometres, and it was down to nine when they reached the 23K mark in just under 69 minutes. Birhanu, three Kenyans and one of the paid pacesetters surged ahead at that point, but there was still a group of four approaching 32K.
Then Birhanu pushed the pace again. Trying to repeat his April victory in a marathon in South Korea, the 28-year-old was leading by about 13 seconds as he left New Edinburgh and turned back onto Sussex Drive, and he ran the rest of the way alone.
"Yes, it was very difficult, not only because I was by myself, but (also) that it was very windy," Birhanu said through an interpreter. "It was very challenging the last few kilometres."
Zennebe's victory was actually the sixth in a row in the Ottawa Marathon for Ethiopian women, following Merina Mohammed (2010), Kebebush Haile Lema (2011), Yeshi Esayias (2012-13) and Tigist Tufa, whose 2:24:30 was exactly a minute faster than the time Zennebe produced on Sunday.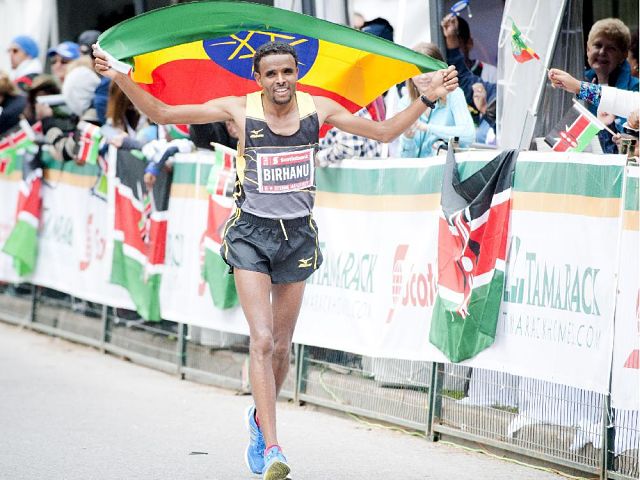 Girmay Birhanu celebrates his marathon win at Tamarack Ottawa Race Weekend Sunday May 24, 2015. (Photo: Ashley Fraser / Ottawa Citizen )
"I was uncertain (about winning), but obviously I was very motivated and I was fighting like I could win it," Zennebe said through the interpreter. "If not first, at least one of the top three, and I was successful."
Read more at the Ottawa Citizen »
—
Related:
Runners From Ethiopia Win Bolder Boulder 10K Race in Colorado
Join the conversation on Twitter and Facebook.