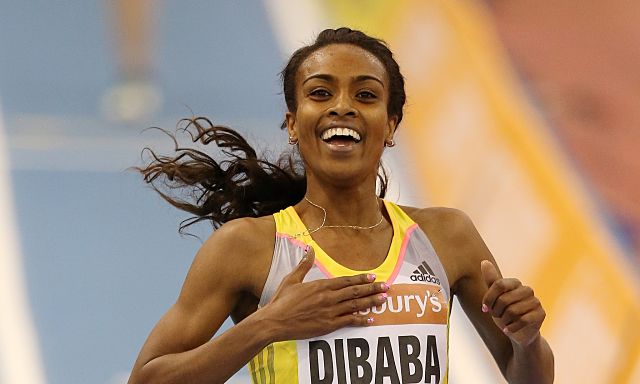 Tadias Magazine
By Sabrina Yohannes
Published: Tuesday, May 27th, 2014
New York (TADIAS) — Ethiopia's Genzebe Dibaba smashed three world marks in two weeks in February, and she plans to attack two more world records this summer. She broke the indoor 1500m and 3000m records and two-mile world best in the winter, before taking 3000m world indoor championships gold in March, and she and her coach Jama Aden considered several outdoor records before the season began.
"I think she can take the mile and two-mile, the 2000," said the Somali-born Aden in an interview. Genzebe lost her first race of the outdoor season in Doha, Qatar on May 9, but Aden said she's still on track for her record-setting goals.
"We are still attacking the world records in the 2K and the two-miles," he said, speaking some days after the Doha race. "She'll run Ostrava on the 17th of June. She'll run in the 2K in Ostrava. And then the two-mile, we haven't set up yet."
A women's two-mile race has since been announced for the May 30-31 Prefontaine Classic meet in Eugene, Oregon featuring world 5000m medalist Mercy Cherono of Kenya, who finished ahead of Genzebe in Doha. Genzebe is not listed in that Eugene field, but the current world record in the two miles, 8:58:58, set by Ethiopia's Meseret Defar in 2007, may just be threatened at the meet.
The 2000m world mark that Genzebe will chase in Ostrava in the Czech Republic is 5:25.36, set by Ireland's Sonia O'Sullivan in 1994.
In the Doha Diamond League 3000m on May 9, Genzebe was in the lead when she was passed by Cherono and her world indoor medalist compatriot Hellen Obiri. Genzebe eventually drifted to 6th place.
"The race was tough," said Genzebe in an interview. "I don't know if it was the weather." Though she didn't offer it as an excuse, when asked about the fact that she sat on the Doha track immediately after the race and loosened her shoes, Genzebe said she had hurt her foot while training in spikes a week ahead of the race, causing her to change the shoes she used afterwards, and to also race in Doha with a bandaged foot. "In the hot weather, I experienced a burning sensation in my foot," she said.
She had expected a challenge from Cherono, she said. "I know Mercy Cherono has speed over 5000 and 3000," she said, but Obiri's eventual triumph in the race wasn't a surprise either. "Obiri is a very strong athlete," she said. Both of those women were on Kenya's world record-breaking 4 x 1500m team at the IAAF World Relays this past weekend, and will likely continue to challenge Genzebe in her endeavors this season.
"She didn't know what went wrong, and she also had a little bit of soreness, but it wasn't a major problem," said Aden of Genzebe's race in Doha, where she finished in 8:26.21.
"8:26 is her personal best, and it was not bad, but everybody else ran very well," added Aden, who also commented that the pacemaking had not been ideal. Genzebe had previously run 8:37.00 for the distance outdoors. Her Doha vanquishers also slashed their previous bests, with Obiri running an African record 8:20.68, and Cherono 8:21.14.
"I was expecting 8:18, 8:16, 8:14, somewhere in between," added Aden of Genzebe (whose indoor world record is 8:16.60, a 10-second improvement over her previous indoor best). "She's in good shape. She trained very well."
Genzebe is looking forward to several highlights in the season, including the Diamond League 3000/5000 series and the season-ending Continental Cup, which she aims to qualify for at the African championships.
"I want to run very fast in Rome in the 5000, not seeking a world record, but a personal best," she said of the Rome Diamond League meet on June 5. "And I will focus on the 2000m and [two] mile events."
Genzebe's 5000m best is 14:37.56, which she ran in 2011. She has never run 2000m or two miles before outdoors, but clocked her 9:00.48 indoor two-mile world best in her debut over the distance indoors on February 15. She will be hoping to transfer the form that saw her set that mark and her 3:55.17 world indoor 1500m record on February 1 to the outdoor track.
"I've trained very well," she said. "My work with Jama has been going great."
She began training with him in the fall of 2012, after being introduced to him by Tirunesh's Olympic silver-medalist husband Sileshi Sihine. Aden coaches Djibouti's world indoor 1500m champion Ayanleh Souleiman, Sudan's former world 800m champion Abubaker Kaki and others in and near Addis Ababa, and Genzebe joined the group.
"The idea came from Sileshi, as a matter of fact," said Aden, whose expertise singled him out as a good candidate to coach Genzebe in her middle-distance ambitions.
The former world junior 5000m track and cross country champion Genzebe gives Aden a lot of credit for her recent success. "I would say that everything is due to him, and not just my efforts," she said. "He helped me in my running and brought me to this level."
"She was always a good athlete," said Aden. "She hadn't been working in the gym or done much hill work. … Now she does fartlek and hills with the boys, and really mixes it with the big boys, like Souleiman, like Musaeb Balla [of Qatar], like Kaki."
"I was running 400m in 55 seconds," said Genzebe, describing some of her outdoor workouts under Aden. She added that a valuable aspect of her work with him is his constant attention to the details of her daily sessions.
Aden developed a coaching career over many years, after having represented Somalia in the middle distances in the 1980s, including at the Los Angeles Olympics. "I studied at Fairleigh Dickinson University and did my graduate studies at George Mason in exercise physiology," he said, of the American schools in New Jersey and the Washington D.C. metropolitan area. "I worked with Abdi Bile when Abdi was running." Bile was a two-time 1500m world medalist for Somalia, taking gold in 1987 and bronze in 1993, and also contesting the 1996 Olympics.
"I created my own method of training," said Aden. "I don't ignore speed, I don't ignore endurance, I don't ignore strength. That's been working with my athletes."
"His work helped me achieve these results," said Genzebe of her three indoor world marks. Now, coach and athlete both hope that she can add a couple more world records to her resume before the summer is over.
—
Join the conversation on Twitter and Facebook.