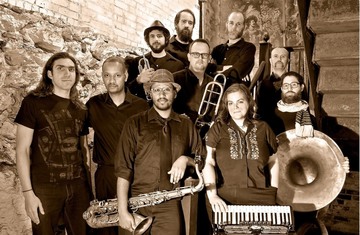 Above: Debo Band will stage a show at 92y Tribeca in NYC on
May 28, 2011. (Photograph courtesy of Amael Tesfaye, 2011)
Tadias Magazine
By Tigist Selam

Updated: Saturday, May 28, 2011
New York (Tadias) – The Ethio-jazz group Debo Band will return to NYC to perform at a special concert featuring Ethiopian, Sudanese, and North African music. The event is set to take place at the 92Y Tribeca tonight.
Led by Ethiopian-American saxophonist Danny Mekonnen and fronted by charismatic vocalist Bruck Tesfaye, Debo's performances bring together the best of the last forty years of Ethiopian music, with a reverence for the vintage sounds of the 1970s and a commitment to discovering contemporary gems, as well as developing new compositions.
At today's show in New York, Debo will be joined by Nettle — a band that was founded by DJ/Rupture when he lived in Barcelona. Nettle will release their second album in Fall 2011 entitled El Resplandor: The Shining In Dubai, a soundtrack to an imagined remake of The Shining, set in an abandoned luxury hotel in Dubai.
The other musical ensemble set to share the stage with Debo is Alsarah & The Nubatones. The band came together out of a collective love for Nubian music and a genuine belief that Soul transcends all cultural and linguistic barriers. Inspired by the pentatonic scale they blend a selection of Nubian 'songs of return' from the 1970s with original material and traditional music of central Sudan. Their set is a musical journey through the diaspora viewed through an urban lens.
"We've never done a show quite like this," says Debo bandleader Danny Mekonnen, speaking about his team's NYC gig. "We're really interested in seeing how these different bands will compliment each other."
Debo is also scheduled to make an appearance at The Lincoln Center Out of Doors this Summer, which is the same concert that featured Mahmoud Ahmed, Alemayehu Eshete, and Getachew Mekuria in 2008.
"Very exciting time for us," says Danny.
If You Go:
Saturday, May 28
8pm Doors, 9pm Show
$16 cover. All ages.
92YTribeca
200 Hudson Street, New York, NY 10013
212.601.1000
www.92y.org/92ytribeca/
Video: Debo Band – "Lantchi Biye" Live: SXSW 2011 Showcasing Artist