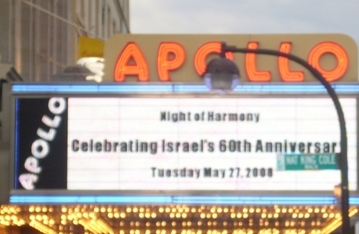 Above: Outside the world-famous Apollo theater in Harlem.
Tuesday, May 27, 2008. Photo by Tadias.
By Tadias Staff
Published: Friday, May 30, 2008
New York (Tadias) – Tuesday was an evening of harmony at the world-famous Apollo theater in Harlem, where the African American and Jewish communities of New York paid homage to Israel's 60 years of independence.
The event, which was attended by more than 1200 people, featured a performance by the
Israeli-born Grammy Award winner Miri Ben-Ari. The hip-hop violinist, an Apollo legend
herself, launched her musical career on the same stage at Apollo where she delivered a
moving musical tribute to Dr. Martin Luther King, Jr. on Tuesday evening. "To be celebrating
Israel's 60th anniversary is special," she said, "but to be celebrating it here at the Apollo
is really very exciting for me!" Ben-Ari mentioned that if you survive the Apollo audience on
Amateur Night, then you can survive and do well on any stage.
Since her Apollo debut Ben-Ari has gone on to collaborate with today's big name artists, including Grammy award winner Kanye West, Jay Z, Patti Labelle, and John Legend.
The evening also included stellar performances from three African American gospel choirs: Allen
Cathedral, Bethel Gospel Assembly Church, and the Christian Cultural Center. The audience rose
to their feet on several occassions and joined in the celebrations of Harlem's vibrant choirs.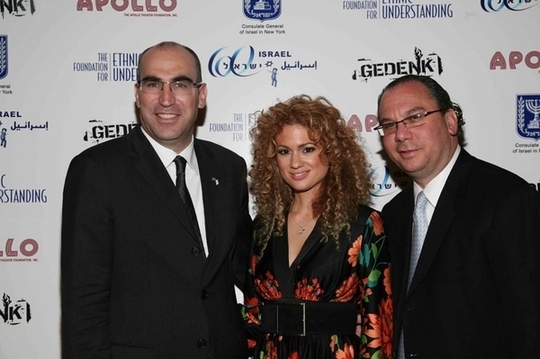 Above: Photo from IsRealli. From left – Consul General Asaf Shariv; Miri Ben Ari, Founder
of Gedenk and hip hop violinist; Rabbi Marc Schneier, President of the Foundation
for Ethnic Understanding. Photo Credit: Shahar Azran.
David Ushery of News 4 New York played host for the evening. Prominent speakers included the
First Lady of New York, Michelle Paige Patterson, Congressman Charles Rangel, Israeli Consul
General Asaf Shariv, Israeli Consul for Media & Public Affairs David Saranga, and Rabbi Marc
Schneier from the Foundation of Ethnic Understanding. A Video Greeting from Russell Simmons, as Chairman of the Foundation for Ethnic Understanding, was also shared.
Consul General Asaf Shariv shared with the Apollo audience that Israel is the only country,
besides the U.S. that officially commemorates Dr. King's birthday.
According to Israel Today: "Consul for Media and Public Affairs David Saranga said that Tuesday's performance was part of a series of events and projects in New York with a goal of commemorating Israel's 60 years including the screening of top celebrities congratulating Israel in Times Square." Banners showing the diverse faces of Israel are also on display on Fifth Avenue.