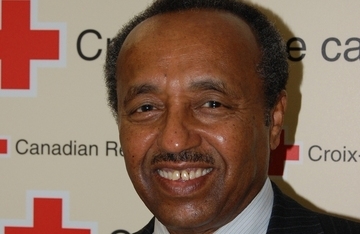 Tadias Magazine
By Liben Eabisa

Published: Thursday, May 29, 2008
New York (Tadias) – It was announced in Geneva last week that Ethiopian-born Bekele Geleta, 64, has been appointed as the Secretary General of the International Federation of Red Cross and Red Crescent Societies.
Mr. Geleta is currently the general manager of international operations for the Canadian Red Cross. He spent five years in prison in Ethiopia, and later served as a Cabinet Minister and the Ethiopian Ambassador to Japan.
According to The Ottawa Citizen: "Geleta came to Canada as a refugee in 1992, settling in Ottawa with his wife, Tsehay Mulugeta, and four young sons. He soon started building a new career in humanitarian work, serving with Care Canada, the Red Cross and other organizations," which eventually led to last week's announcement of his new prestigious post.
Below is my interview with Bekele Geleta.
(But first here is a recent CNN Video on the voice of the Red Cross)
Video: Bekele Geleta – Life of Service

Tadias Magazine's interview with Bekele Geleta
Published: Thursday, May 29, 2008
Tadias: Mr. Geleta, congratulations from all of us at Tadias on your new position. How does it feel to be named the Secretary General of the International Federation of Red Cross and Red Crescent Societies?
Mr. Geleta: Well, good, firstly. There's a bit of anxiety around taking over a huge challenge with great responsibilities. We're seeing more disasters with increasing frequency and intensity; conflicts around the world are creating worsening vulnerability. There's desperation, famine, insecurity, urban violence – the world of humanitarian work is becoming more and more challenging and therefore I'm coming into the Secretary General position at a very critical time. I feel very determined to make a difference in the lives of the vulnerable going forward.
Tadias: How do you imagine your typical work day would be like in Geneva?
Mr. Geleta: Well, it will be very interesting. I'll start very early in the morning, attend and lead meetings, take time to reflect, conceptualize and give guidance. I like to walk around and talk to staff in their offices, motivate them, and I'll respond to requests and issues raised by national Red Cross and Red Crescent societies from around the world.
The days for the Red Cross chief executive are extremely busy. There is no down time. I know this from my days as head of the Africa Department in the late 90s and early 2000. My days were extremely busy so, I can imagine that for the Secretary General it will be full and busy days.
Tadias: In all of your years building a career in humanitarian work, what do you consider your finest achievement?
Mr. Geleta: Every effort in the humanitarian world is an achievement. Every life saved is an achievement. Every livelihood contributed to or improved is an achievement. It's really difficult to say, this is better than that. In the Red Cross – even when I was in prison – I considered every contribution to be a good contribution.
Probably the most sustainable contribution is what I was able to do in building the capacity of Red Cross and Red Crescent societies in Africa and South East Asia. That's extremely important because when disasters happen the early hours are the hours in which the most lives are saved; the period before international support arrives. So, the more capacity that's been built-up internally and the more sustainable it becomes, the more effective it will be in saving lives in those early hours after a disaster and reducing vulnerability. Capacity is extremely important. Capacity of indigenous organizations and capacity built-in to the community factor largely in the humanitarian world and I've done quite a bit in this area in the countries I have worked in.
Tadias: We have learned through press reports that you spent five years in prison in Ethiopia, and later served as a cabinet minister and as the Ethiopian ambassador to Japan. How have your experiences in Ethiopia helped you in your career serving as a humanitarian?
Mr. Geleta: I have known vulnerability first hand. I come from a poor family. I worked myself out of it.
I have lived in a prison where for the first two years, at five o'clock, nearly every day, buses arrived, names were called, they were taken away and those people never came back. No one would see them again or know what became of them or whose turn would be next. It was very difficult life in prison and a terrible kind of vulnerability to live through.
I have also been a refugee, in Canada, which also brings its own kind of vulnerability. Not in that you don't have food or a place to stay. Not that your children won't be able to attend school. It's a vulnerability based in the feeling that you are a burden on a society that you have not contributed to. It's a different kind of vulnerability.
But that actually makes one feel very strongly about supporting the vulnerable. I identify with the vulnerable and feel very strongly in my heart that I must work to support them.
On the good side of life I have been a deputy minister and ambassador to Japan. These positions exposed me to management skills, to the workings of diplomacy and enabled me to gain a certain comfort when dealing with heads of state and people at all different levels of government. And it enables a person to feel comfortable in any situation – from the lowest point in prison to the imperial palace – I feel able to contribute at any level.
It prepares a person to be useful at all levels and has prepared me well to quickly assess situations, I can easily enter into dialogues with people at the highest levels and I can also work with volunteers and staff to most efficiently respond to a disaster or other situations.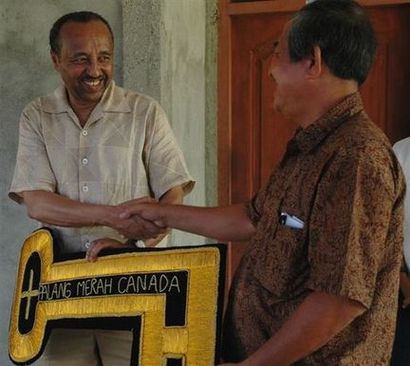 Above: Mr. Bekele Geleta, General Manager, Canadian Red Cross
International Operations hands over a symbolic key to Mr. Siasat Baeha,
Head of Village of Hilihati, Lahewa, Indonesia.
Photo Courtesy of Canadian Red Cross.
Tadias: We understand that you came to Canada as a refugee in 1992, settling in Ottawa with your wife and four young sons. What are your reflections regarding your Canadian home?
Mr. Geleta: I often tell my Canadian colleagues, I'm a Canadian by choice, not by accident and there's a big difference in that. If you are a Canadian by birth, you'll probably only start to really feel it when you are outside the country for the first time. But if you are a Canadian by choice, you come here and you realize how important it is to your life. And then you realize that this country, the Canadian people have done a lot of good. They take you in, they help you to establish a home, ensure that your children can attend school, it's tremendous. So, I feel really great about choosing Canada as my adopted home.
There is some difficulty when people like me come, having been educated at one of the best universities in the world and having worked in your home country at a certain level but you come out of your country and become a refugee. They can't fit you in at a senior level in your new country because you don't know the system. They can't graft you somewhere in the middle because there are those who have been working their butts off to achieve those positions and so it's very difficult for organization to graft a refugee into what they might consider a suitable level. But we can't be taken as beginners either. We're not beginners. So essentially we become misfits. It's not anyone's fault, it's simply what we are. That's the reality
Therefore it's up to us. At whatever level of experience, whatever level of education, we must find a way to access the new country's systems. That's what I did and I'm not alone.
There are a great many refugees who have attained certain levels of education or experience and come to new countries and I hear them complaining and I say, complaining is not enough. One has to do the work, one has to make a major effort to find a way to access the system and it does not depend on the new country. It depends on you.
And once you realize it's up to you and you make the effort you will come to see that great opportunities are available.
So, my message to other refugees is, find a way. Canada is a great country and we are lucky to live here.
Tadias: What's your vision for the Red cross for the following years under your direction?
Mr. Geleta: Well, this interview comes a bit early to fully answer that question, just at the very beginning of this assignment, before I take over the position.
The one thing I can say is that the Red Cross has an excellent strategy called Strategy 2010 which was formulated in 2000, revised four years ago in Seoul and articulated the direction of the Federation going forward. This strategy will hopefully go a long way toward making the Red Cross, the largest humanitarian movement, the most efficient and most reliable civil society organization in the world.
One should always remember is that the Red Cross has a special relationship not only with the community but also with governments around the world. This makes the Red Cross unique because there is no other civil society that has established a permanent presence in every country and community. Only governments or faith-based organizations have permanent presences in every country. The only civil society entity that has come to that level is the Red Cross. It's known everywhere by everybody and it's challenge, my challenge, is to make it the world's most efficient humanitarian organization; an organization that everyone feels comfortable with, an organization that people feel they can turn to and know they can rely on.
So that's what I'll be working on and from the lessons of Strategy 2010, I will look forward to 2020.
Tadias: There has been recent press reports that famine is once again imminent in Ethiopia. According to BBC: "Six million children in Ethiopia are at risk of acute malnutrition following the failure of rains, the UN children's agency, UNICEF, has warned. More than 60,000 children in two Ethiopian regions require immediate specialist feeding just to survive." Does this concern the Red Cross? and if so what are your plans to act to prevent this disaster?
Mr. Geleta: The Federation has already issued a preliminary appeal for 2 million Swiss Francs but that is preliminary. Assessments are being done and following the assessments, there will be further appeals for funding to support the Ethiopian Red Cross Society in the work they will be doing to help the vulnerable, the children.
Ethiopia has a strong Red Cross Society. I worked very hard to make it a sustainable organization and it is a strong society with many volunteers and good leadership. So the Federation has good and reliable partners in the Ethiopian Red Cross Society and we will be doing a full assessment around the issue of food security and as necessary increasing the level of expertise sent into the country to support the national society.
Tadias: Is there anything else you would like to share with our readers?
Mr. Geleta: The message I have for Ethiopians in the Diaspora: please do less politics; more development. And participate and contribute to the humanitarian endeavours which will help lessen the vulnerability of Ethiopians. You can always take the Red Cross as your partner. You can support your people in Ethiopia – including the children – by supporting the work of the Red Cross. The Ethiopian Red Cross or, if you like, the Canadian Red Cross, because you can be certain that there you have a partner in lessening the vulnerability of people.
Tadias: Mr. Geleta, once again our warm thanks for taking our questions and best wishes in your endeavors.
—-