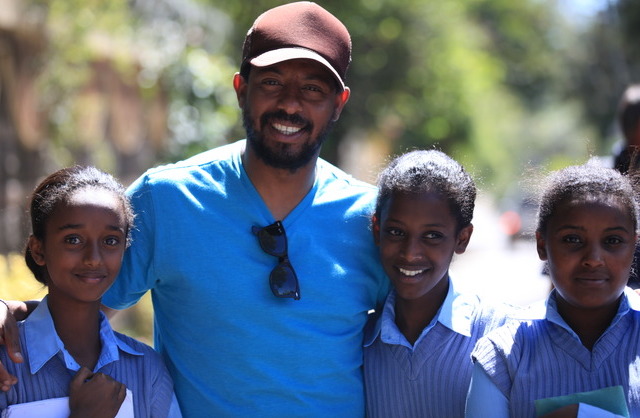 Tadias Magazine
By Tadias Staff
Published: Thursday, May 30th, 2013
New York (TADIAS) – You may remember our highlight last year of a group of independent Ethiopian filmmakers in the U.S. who successfully raised seed money via Kickstarter, an online fundraising platform, to finance the production of a feature length movie called Difret. Originally titled Oblivion, the film chronicles the true story of a teenager from a small, rural village in the Arsi region whose widely publicized arrest for murder in the late 1990s unleashed a historic court battle that resulted in the girl's acquittal on the grounds of self-defense, legally ending the traditional practice of child marriage by abduction in Ethiopia.
This week the producers released a short clip of their nearly complete project, revealing for the first time that the main character, 14-year-old Aberash Bekele, is powerfully portrayed by a new teen actress named Tizita Hagere, while Aberash's feisty lawyer Meaza Ashenafi is played by one of Ethiopia's leading actresses, Meron Getinet.
"We did two rounds of casting and looked at many professionals and youngsters from various local schools," Leelai Demoz, one of the co-producers, told Tadias. Regarding the audition process, Leelai said, they screened over 400 people who tried out for the film's various roles. As to the newcomer Tizita, she was spotted by the director Zeresenay Berhane Mehari. "It was one of those moments where as soon as he saw her performance at one of the auditions he noticed that she embodied the character he had envisioned," he said.
The epic story opens with Aberash's ordeal one fateful afternoon in 1997 when she was abducted while walking home from school. She was singled out from her friends by a group of horsemen, led by a 29-year-old farmer, who had planned to kidnap and marry her. That was the person she was accused of killing. "He hit me about the face," Aberash told the authorities at the time. "I nearly lost consciousness. He was such a huge man, I couldn't push him away. Then he forced my legs apart. He beat me senseless and took my virginity." Aberash eventually fatally shot the man. She said that she discovered the gun in a room where she was being held, picked it up, and ran away. Following a chase she turned the weapon on her attacker; She was arrested and charged with murder.
"Making this film has really been a humbling experience because of the support of the community," Leelai noted: "So many people have come through in so many ways and risen to the challenge."
"Difret was the Amharic title and as we thought about it, it felt right to keep it for the English version as well," Leelai said mentioning the recent change of the film's English heading.
The video was released on kickstarter.com, where the team has launched a second round of campaign for funds to help them finish the final stages of editing work in preparation for the movie's submission to international competitions later this year.
"In the next two months, we have to start the post production sound mix," Leelai emphasized. "This process is where every track of audio is mixed and perfected." He added: "It is labor-intensive and expensive process. In some cases, we have to re-record some audio. We also need to do color correction. This is what gives the film a uniform look. Any differences in exposure or color temperature are fixed. At the end, we will have a film that looks and sounds amazing. This part is where you don't want to cut corners."
Below is the two-minute video with an introduction from the director Zeresenay Berhane Mehari.
Watch:

—
You can Learn more and contribute to the kickstarter campaign for Difret at www.kickstarter.com.
—
Join the conversation on Twitter and Facebook.