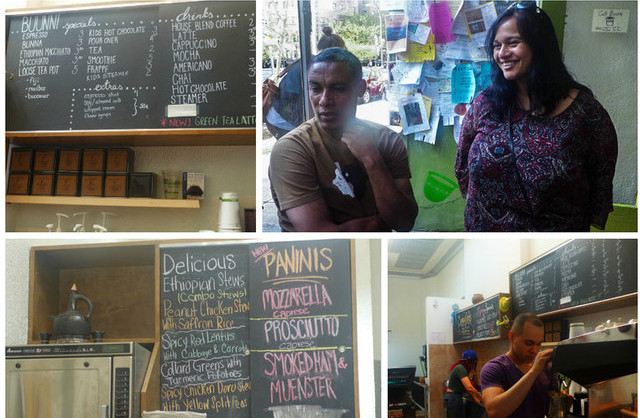 Tadias Magazine
By Tadias Staff
Published: Friday, May 30th, 2014
New York (TADIAS) — In the enclave of Hudson Heights in Upper Manhattan, close to the highest point on the island, there is a quaint new addition to the neighborhood. Café Buunni serves certified organic, micro-roasted specialty coffee sourced from Ethiopia, the birthplace of the bean. This Washington Heights neighborhood is dotted with Art Deco style residential buildings, a bagel store, a vegan pizza joint and a Mexican restaurant aptly named 'Refried Beans.' Past a children's playground and park, on the corner of 187 and Pinehurst Ave, a 30-year old shoe repair shop has been converted into a sunny, spacious cafe by its new proud owners Elias Gurmu and Sarina Prabasi.
Elias is an Ethiopian native and his wife Sarina is originally from Nepal. "We met in Ethiopia, in Addis," Sarina tells Tadias Magazine. Sarina worked for a string of non-profit organizations including WaterAid, initially visiting Ethiopia in 1997 and then residing there for seven years. "It's like a second home," she says of the capital Addis Ababa. Elias ran several small businesses including a restaurant, a car service and also worked as the Addis Ababa distribution agent for DKT International – a family planning and HIV prevention organization.
"I wasn't as busy as I am now," Elias says reflecting on his small business days in Ethiopia. "Back then, I had six staff. I go to work in the morning and I ask my staff "what is the order today?" Then I go visit some customers; I know who the major customers are. That's it. And then I have like 5-6 hours to just relax, hang out with friends."
Elias and Sarina moved to New York three years ago in July. "We came to the States because Sarina got a job here," Elias says. Sarina had visited New York before. When they decided to live here they visited the Hudson Heights neighborhood. "And we liked it. We had a few friends here as well," Sarina adds. Elias pondered about starting a small business in the city. He wanted it "to be something related to Ethiopia."
"My original idea was to bring coffee here from Ethiopia, to roast it and to distribute it online. So I started an online business," Elias shares. He learned how to micro-roast from a friend and opened an online store: buunnicoffee.com. The word buunni is an Amharic term meaning "brown" or "brown-colored." Bunna, the word for coffee in Amharic, cannot be trademarked so Elias and Sarina chose a descriptor instead. The online store was launched two and a half years ago and the distribution was mainly to individual clients.
"We started really grassroots," Sarina shares. "Elias was going around to weekend markets, festivals, getting to know people and conversing with them saying "hey I roasted this myself." He gave out samples of the micro-roasted coffee, and we have a small group of very loyal customers online. At that time we were not thinking about opening a café. We wanted to do wholesale online distribution for reasons such as low overhead."
A year and half ago Sarina and Elias had traveled to Ethiopia to do some coffee tasting and selections and when they returned they noticed a 'For Rent' sign around the corner from where they live. The 30-year old shoe repair shop had closed.
"Should we?" they asked themselves, thinking about it being the right spot for a café. Elias was used to running several small businesses and he knew how difficult it was to operate a restaurant. They had a toddler (two years old at the time) and he knew the business would be a 24/7 operation. So they debated some more and finally decided to just do it. "Because even in this neighborhood there wasn't a place for us to have coffee. And we thought there could be other people like us who would want to have coffee," Sarina says. They took over the lease and opened Café Buunni. All of the coffee is certified organic and comes from small cooperative farms in Ethiopia. They roast the beans as ordered to preserve the freshness and quality. Café Buunni offers several Ethiopian coffees including single origin blends called Addis Ababa, a popular light roast named Yirgacheffe and a dark roast called Harar. They also have a Half-Caf Blend from Sidama decaf beans and a special holiday blend that is a combination of Harar and Tanzanian coffee.
As we interview Elias and Sarina, a customer who overhears our conversation says to Elias, "You're not going to sell are you?"
"No I'm just speaking with journalists," he assures her.
"This is a great place," she tells us. "I really enjoy it. It's better than Starbucks."
Legend has it that Ethiopia is the birthplace of coffee. Ask any Ethioipan how coffee was discovered and they will tell you the story of Kaldi, a 9th century goat herder who noticed the plant after his goats had nibbled on a few beans and started prancing around with excitement. Other versions of the legend point to the origin as a region in Ethiopia called Kaffa. However, the earliest reported coffee drinking was in Mocha, Yemen where Sufis in monasteries drank the strong brew to stay awake for their rituals and studies. According to Wikipedia, coffee was first exported from Ethiopia to Yemen.
The coffee ceremony in Ethiopia is as elaborate and rich in tradition as the Japanese tea ceremony. Most Ethiopians grow up used to seeing green coffee beans being roasted, then ground by hand in a mortar and pestle and then brewed in Jebena. "It's such a different thing," Sarina says reflecting on how coffee is consumed and thought of in Ethiopian culture. "It's not just about having your coffee. It's about enjoying your drink and having conversations and the community that goes along with it."
"In Ethiopia we don't talk about coffee, we talk around a coffee gathering," Elias adds. "Who taught you to roast coffee? You just watch and do it the way it's done and you're not so much concerned with measurements."
As we wrap up our interview with the owners of Café Buuni, another customer, an Ethiopian woman and her daughter, greet Elias and Sarina. She too says "It's better than Starbucks."
"You're the second customer who just said that," we tell her.
"Absolutely. I have no doubt in my mind, she says with a smile.

—
Learn more about Café Buunni at http://buunnicoffee.com.
Join the conversation on Twitter and Facebook.