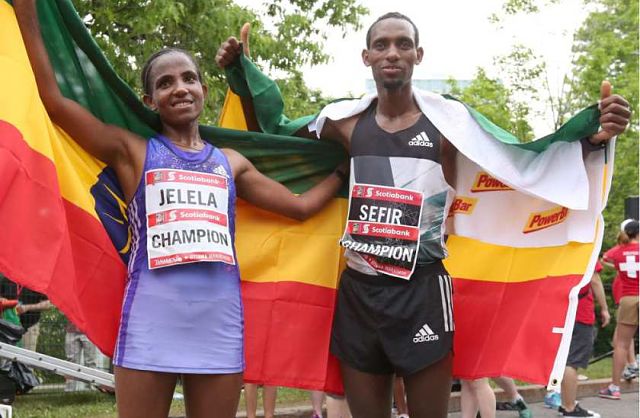 Dino Sefir and Koren Jelela beat the heat and they beat the fields to win Scotiabank Ottawa Marathon titles on Sunday.
The Ethiopian runners pulled away from their nearest remaining competitors with between nine and 12 kilometres remaining and cruised to the men's and women's titles and their respective first-place bonuses of $30,000 U.S.
Sefir crossed the finish line on the Queen Elizabeth Driveway with a time of two hours eight minutes 14 seconds, 1:50 faster than compatriot Shura Kitata. The next three spots went to Kenyans Dominic Ondoro (2:11:39), Evans Ruto (2:12:55) and Luka Rotich (2:17:15), who finished second in the Ottawa race two years ago.
Following Jelela to the end of the official 42.195-kilometre course were 2015 champion Aberu Makeria (2:29:51) and two other Ethiopians, Sechale Delasa (2:32:46) and Makida Abdela (2:34:29), with Tarah Korir of St. Clement, Ont., claiming fifth place and top spot among Canadians with her time of 2:35:46.
Read more and see photos at The Ottawa Citizen »
—
Join the conversation on Twitter and Facebook.