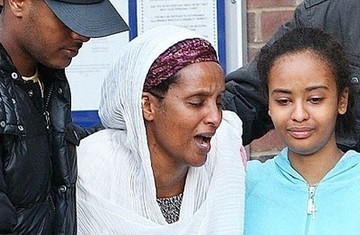 Above: Agony in London - Tsehay Dawit on her way to see
her murdered daughter Arsema's body today. On her right is
her surviving daughter Feruz, 12
'How could they do this?'
Agony of stabbed schoolgirl's mother as she sees her daughter's body (Mail Online)
By Daily Mail Reporter
Last updated at 8:08 PM on 04th June 2008
Stricken with grief, the mother of stabbed schoolgirl Arsema Dawit leaves her London home today as she is taken to see her daughter's body.
Weeping uncontrollably, Tsehay Dawit was supported by her surviving daughter Feruz, 12, as she made her way to the car taking her to the mortuary.
Before she left, she pointed at the floral tributes laid outside the door to the block of flats where they lived in Lambeth and repeated over and over again: "How could they do this? It was here they left my daughter."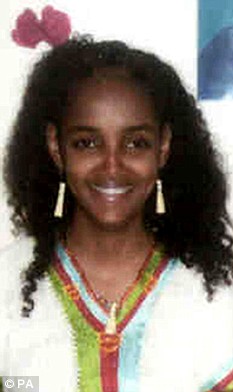 Murdered: Arsema Dawit, 15, was stabbed
to death in a frenzied attack just yards from
her own door
Meanwhile a 21-year-old student, Thomas Nugusse, of Ilford, Essex has been charged with Arsema's murder and will appear at Greenwich Magistrates Court on Thursday, Scotland Yard said tonight. Read More.