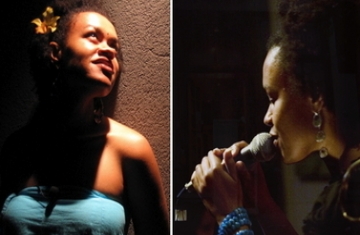 Art News
Source: San Francisco Sentinel.com
10 June 2009
The de Young Museum hosts Meklit Hadero and Todd Brown: Light, Shadow, and the Quiet Song Between through June 27th as part of the Fine Arts Museums of San Francisco Artist-in-Residence Program in the Kimball Education Gallery. Read more at San Francisco Sentinel.com.
Ethiopia native MEKLIT HADERO is a singer, musician, cultural activist, and previous director of the Red Poppy Art House in San Francisco. Meklit has lived in twelve cities, on three continents, and her musical explorations span cultural influences and genres. In December of 2007, Meklit released her first recording, titled Eight Songs. She is the recipient of a 2008 Individual Grant from the Belle Foundation for Arts and Culture. Currently, she is organizing a group of Ethiopian Diaspora artists from across North America to return to Ethiopia for a festival of traditional music at the end of this year. Meklit was selected as a 2009 TED (Technology, Entertainment, Design) Global Fellow. The TED conference is a large gathering of artists, scientists, engineers, entrepreneurs, and designers who are at the cutting edge of their fields. Along with Brown, she is a central composer, lyricist and co-founder of the musical ensemble Nefasha Ayer. Listen to Meklit's work: MEKLIT HADERO.
Related: Meklit Hadero at Tsehai Poetry Jam in L.A.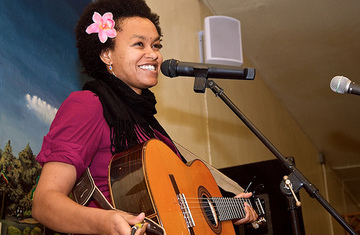 Photos from L.A.'s Little Ethiopia
Tadias Magazine
By Tadias Staff
Updated: Wednesday, June 10, 2009
New York (Tadias) – An intergenerational poetry reading and panel discussion examining four decades of Ethiopian immigrant's life in the U.S was held earlier this month in Los Angeles.
The Tsehai Poetry Jam, which was presented in cooperation with PEN USA, the Ethiopian Heritage Foundation and Tsehai Publishers, was held at Messob Restaurant & Lounge, located in the official neighborhood of Little Ethiopia on Fairfax Avenue.
A similar event in Chicago is scheduled for early July in conjunction with the The Fourth Annual Tsehai conference.
Below are photo highlights from the L.A. event courtesy of Tsehai Publishers.
Photos by Richard Beban