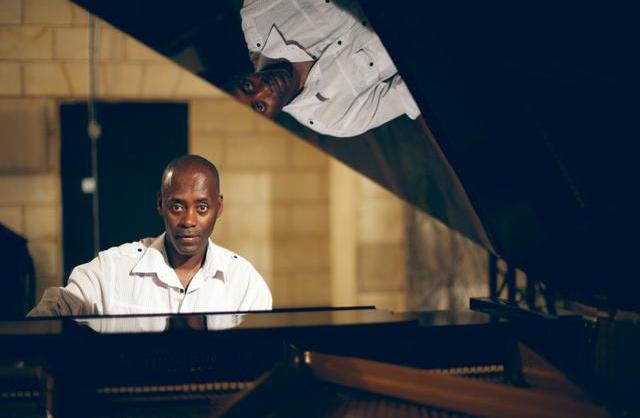 Tadias Magazine
By Tadias Staff
Published: Saturday, June 28th, 2014
Washington, D.C. (TADIAS) — Ethiopian pianist and composer Girma Yifrashewa will celebrate the release of his new solo piano album, Love and Peace, with a live performance on July 30th at Bethesda Blues and Jazz Supper Club in Bethesda, Maryland.
Girma's latest album was recorded last year in Brooklyn, New York.  Released by the Unseen Worlds record label, the CD features Girma's arrangement of The Shepherd with the Flute — a short reflective and romantic piece originally composed by the late Professor Ashenafi Kebede — as well as his own compositions based on traditional Ethiopian melodies, such as Ambassel, Chewata, Sememen, and his favorite Elilta.
Following his debut New York appearance at the Issue Project Room in Brooklyn on June 8th, 2013, The New York Times described Girma as offering "a rare and fascinating example of aesthetic adaptation and convergence."
"Born 1967 in Addis Ababa, Girma Yifrashewa combines the ecstasy of Ethiopian harmony with the grandeur of virtuoso piano technique into an effortlessly enjoyable mixture," the press release states. "Trained in Bulgarian conservatory, the Royal Academy of Music in London, and the Hochschule fur Music Und Theater in Leipzig as a highly accomplished performer of classical repertoire, Yifrashewa has chosen to remain in Ethiopia, helping to forge a classical tradition for his country. Currently Yifrashewa works to promote Ethiopian and Classical Music by touring throughout Africa and Europe."

—
If You Go:
Girma Yifrashewa in Bethesda, Maryland
Bethesda Blues and Jazz Supper Club
July 30, 2014
7:30PM / $15
7719 Wisconsin Ave
Bethesda, MD 20814
Tickets at: www.instantseats.com
www.bethesdabluesjazz.com
Join the conversation on Twitter and Facebook.