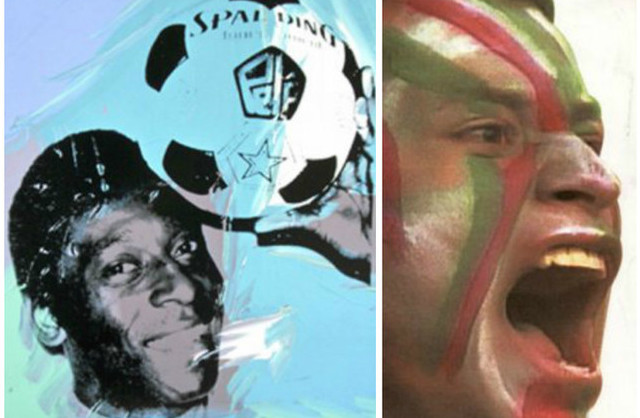 Tadias Magazine
By Tadias Staff
Published: Saturday, June 28th, 2014
Los Angeles (TADIAS) — The Los Angeles County Museum of Art (LACMA) is currently hosting a timely exhibition entitled Fútbol: The Beautiful Game, featuring works by more than two dozen artists and highlighting the globally beloved sport through video, photography, painting, sculpture and large-scale installation.
The exhibition, which will remain open until July 20th, 2014, "examines football—nicknamed "the beautiful game" by one sports commentator—and its significance in societies around the world. As a subject, football touches on issues of nationalism and identity, globalism and mass spectacle, as well as the common human experience shared by spectators from many cultures."
"When people watch a game, they feel inspired by the spirit of the team, the fans, and the sense of community," remarked Franklin Sirmans, Terri and Michael Smooke Curator and department head of contemporary art at LACMA in a press release. "We, the fans, create the spirit of the team via our rituals. Witnessing a game is one of the few occasions during which a collective sense of enthusiasm is still possible. This exhibition explores that energy."
The press release adds that two room-sized video installations anchor Fútbol: The Beautiful Game, including an intimate portrait of Zinedine Zidane — one of the greatest soccer players in the history of the sport— during the course of a single match. Other works by artists including Robin Rhode, Kehinde Wiley, Petra Cortright, Andy Warhol, Mark Bradford, Mary Ellen Carroll, Hassan Hajjaj, and Andreas Gursky, among others, provide a sense of the possibilities of the sport as a universal conversation piece.
"With artists hailing from as far afield as Morocco, Germany, Mexico, and South Africa—in addition to several Los Angeles–based artists—the geographic range represented in Fútbol: The Beautiful Game reflects the global reach of the sport."
—
If you Go:
A Walk-Through with the Exhibition Curator Franklin Sirmans is scheduled for Saturday, June 28th. If you would like to join, please rsvp at alitash@alitashkgallery.com. Attendance is limited. You can learn more about the show at www.lacma.org.
Join the conversation on Twitter and Facebook.