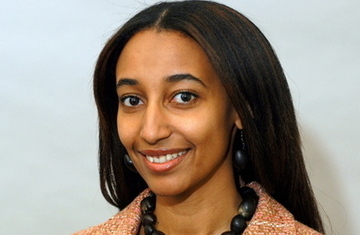 Above: A woman saluted as a CNN Hero was among a
group of creative philanthropists honored Tuesday by
President Obama. The White House event highlighted
nonprofit programs that are making a difference. Alfa
Demmellash was invited after White House staffers saw
her being profiled on CNN. Demmellash runs Rising Tide
Capital, a company in New Jersey that helps low-income
entrepreneurs start or grow their businesses. (CNN).
Watch: Obama Recognizes Alfa Demmellash


CNN Hero Alfa Demmellash reacts to being recognized by
President Obama for her nonprofit work


Another Ethiopian-American CNN Hero
Tadias Magazine
By Tadias Staff
Updated: Thursday, July 2, 2009
New York (Tadias) – Here is another CNN hero to cheer for. Alfa
Demmellash, a graduate of Harvard, is a New Jersey based social
entrepreneur whose organization, Rising Tide Capital, serves aspiring
business owners living in distressed urban communities in her state.
Video: Alfa's interview with TsehaiNY
Related:
CNN Hero: Ethiopian Woman builds school after hyena kills girl
When Washington manicurist Lidia Schaefer returned to her native
village in Ethiopia, she was troubled by what she saw: children
walking three hours each way to attend classes held not in a
school, but under a tree.
CNN.com/Heroes


Related Video: Ethiopian CNN Hero Meets Supporters in NYC
Yohannes Gebregeorgis, one of the Top Ten CNN Heroes of 2008,
at Cafe Addis in Harlem, NYC. The event took place on Saturday,
December 13, 2008.