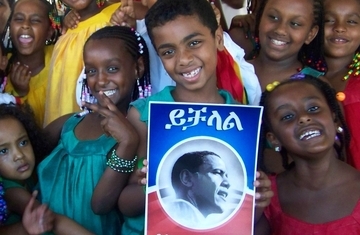 Above: Kids with Yichalal sign at the current soccer
tournament in D.C. North America's largest African soccer
tournament is underway. Photo/TF
Opinion: Ethiopia's Joshua Generation
By Teddy Fikre
Published: Thursday, July 3, 2008
Washington, DC (Tadias) – During the most trying times, when hope is a glimmer that seems too distant to be tangible, it is our children that serve as our bridge to hope. We—Ethiopian-Americans—immigrated to the United States for this very purpose. As the generation who benefited from the toil of our parents, we often don't fully appreciate the tremendous sacrifices our parents have made so that we could attain the American dream. Not only should we never forget the sacrifices of our parents, we should extend every effort ourselves so that the our future generations can ascend higher. This will be our legacy as a people; this will be our legacy as Ethiopian-Americans.
Individually, we have some of the brightest minds; we have attended some of the finest universities and amassed a wealth of intellectual capital. However, if we do not come together and work for the common good, we will continue to be lone men and women on an island. Solidarity—one that transcends gender, ethnicity and religion—should be the clarion call for all Ethiopians. There are untold hundreds of thousands of Ethiopians in the United States ; yet, our inability to coalesce and work together for the common good from coast to coast in America has prevented us from building a coalition for the betterment of all. Whether it is socially, economically, or politically, our inability to unite is a detriment for us; more importantly, it can be a detriment for our children and generations yet to be born.
I was reminded of this paradigm when Ethiopians for Obama deployed to Lideta Mariam and Kidus Gabriel Church to register Ethiopian-Americans to vote. Once the registration drive was completed at Lideta Mariam, I headed over to the Kidus Gabriel Church for the second registration drive. After the registration table was set up inside the church, I noticed how many Ethiopian children were there. One particular girl, 4 year – old , Hanna, came over and asked me what I was doing. Here was a child–barely old enough to count to 10– asking me what a registration was. After I explained what we were doing, she said "I want to help" and proceeded to bring over more of her friends. Another amazing girl, 7 year old Merekat and 5 year old Leah, came over to the table. They asked me what they could do to help, and I told them I needed people to come over and register to vote.
In one of the most amazing scenes I have ever witnessed, each one of these girls started pulling random men and women by the hands and bringing them to the table to register as the church was letting out!! It was touching; there they were–Hanna, Merekat, and Leah, the Joshua generation—leading men and women by the hand to register. All told, these amazing girls helped register five Ethiopian-Americans and sign up 10 volunteers. The lessons we could learn from these children is beyond words ; sometimes age does not add wisdom but pessimism. If we observe our children, we will see in their spirits the true soul of God. A spirit that does not ask about ethnicity, religion, or any other intangible barrier that serves to separate one from another instead of working for the common good.
We are indeed our brothers' and sisters' keepers and we should be reaching out to every single man and woman to encourage them to take their rightful place among the ranks of citizenship by registering to vote. Engagement in the American political process is not just our privilege – it is our right. The time is now and the moment is ours to make a difference is this our United States of America . Barack Obama isn't just asking us to believe in his ability to change Washington ; he's asking us to believe in our own ability to do so. The time really is now and the moment really is ours – ahun kalohne, meche naw emihonew?
Let us all follow our Joshua Generation, heed this call to action and respond with a resounding "Yechalal .
—-
Please join Ethiopians for Obama: http://groups.yahoo.com/group/ethiopiansforobama/