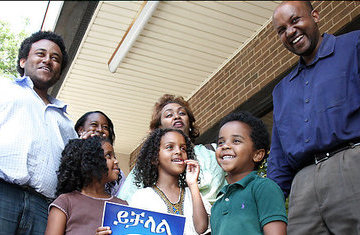 Above: African immigrants who live here and back Obama
include Mike Endale, left, and Teddy Fikre, right, with
youngsters, left to right, Ye-Amlak Zegeye, Leyu
Negussie and Yared Zegeye. In the background are
Yemiserach Endale, left, and Mistella Mekonnen.
Photo Credit: By Richard A. Lipski — The Washington Post Photo
African Immigrants Among Obama's Enthusiastic Backers (Washington Post)
By Darryl Fears
Washington Post Staff Writer
Sunday, July 6, 2008; Page A08
A catered fundraiser for Sen. Barack Obama was held recently at Duke's City, an upscale restaurant and bar nestled amid the hip new condominiums in the District's U Street corridor, where up-and-coming white professionals are slowly taking over an area that was once mostly black.
But the owner of Duke's City, Donato Sinaci, is not one of Obama's many young, white supporters. And the host of the event, Michael Endale, is not a native-born black American. They are members of Ethiopians for Obama, one of several campaign groups made up of African immigrants who are rallying around the first black American to win a major party's presidential primary, and the son of a Kenyan immigrant.
From coast to coast, Somali, Ethiopian, Nigerian and Kenyan Americans are knocking on the doors of their fellow African immigrants, registering new citizens to vote, raising money and preaching Obama's mantra of hope and change. They hope that his prominence will change their status as one of the nation's least-recognized immigrant groups, and that he will one day provide aid to help ease the turmoil and poverty in countries such as Ethiopia, Somalia and Sudan.
At a Caribou Coffee shop on East West Highway in Silver Spring, where Somalis and Ethiopians often gather, Ahmed Eyow, a Somali, said supporting Obama is a no-brainer.
"Obama is one generation away from Africa," said Eyow, who immigrated to the United States nearly 30 years ago. "I have nothing against my brothers and sisters, black people who were born here, but his father is like me. His father was an immigrant. I can relate to him the way I can relate to my own children. He's almost like my son."
Eyow and five friends who joined him said Somalis who were unconcerned with past presidential elections are now deeply engaged, following every development on cable news channels.
At the Ghana Cafe in Adams Morgan, owner Anthony Opare said enthusiastic customers are urging that a brewer in Kenya change the name of its popular beer from Tusker to Obama. "The fact that he's been able to come this far has opened doors for Africans and African descents," Opare said. "To the African, it tells us that . . . one can work hard and get whatever you want. This is the land of opportunity." Read More.