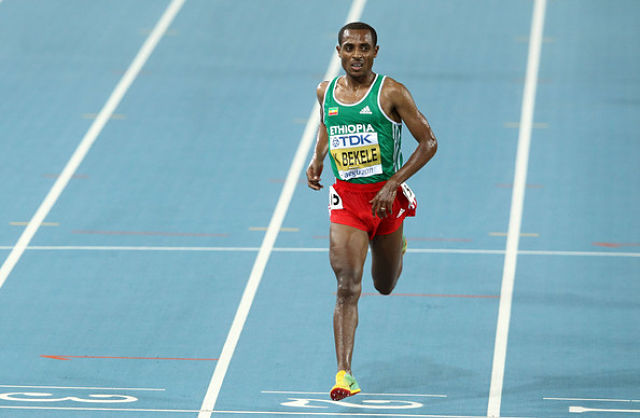 Tadias Magazine
By Tadias Staff
Published: Wednesday, July 13th, 2016
New York (TADIAS) — Ethiopia's Kenenisa Bekele is among the world's "Greatest Olympic Athletes Of All Time," according to a new athletics statistics handbook for the Rio 2016 Olympic Games published this week by the International Association of Athletics Federations (IAAF).
The handbook, which also highlights the records of Ethiopian greats such as Abeke Bekila, Mamo Wolde, Miruts Yifter and Haile Gebrselassie, points out that Kenenisa is by far the most successful male Ethiopian Olympic athlete of his generation, topping the "All Male Events" category as well as leading in "Individual Events" and the "Best Athlete by Country." Kenenisa is currently the Olympic and World Record holder in both the 5000 meters and 10,000 meters categories.
The publication, released only four weeks ahead of the 2016 Summer Olympics in Brazil, includes "all-time medals tables, statistics on the oldest and youngest athletes in Olympic history and a full country index," according to IAAF.
"Athletes often speak about the 'record books' in a figurative sense, but this publication is as close as you can get to a definitive book of records for track and field at the Olympic Games," says IAAF President Sebastian Coe writing in the book. "In short, each and every significant athletics moment in Olympic history is covered."
In the Olympic records book Kenenisa is closely followed by fellow Ethiopian Tirunesh Dibaba, the current 10,000 meters Olympics record holder in the women's category, who is also listed among the world's "Greatest Olympic Athletes Of All Time" along with her cousin Derartu Tulu, Gete Wami and Meseret Defar.
IAAF adds: "The 420-page book has been produced in collaboration with the Association of Track and Field Statisticians (ATFS) and edited by renowned athletics statistician Mark Butler."
The 2016 Olympic Games commences in Rio from 12-21 August.
—
Related:
Rio 2016 Olympic Games Athletics Statistics Handbook (IAAF)
Join the conversation on Twitter and Facebook.