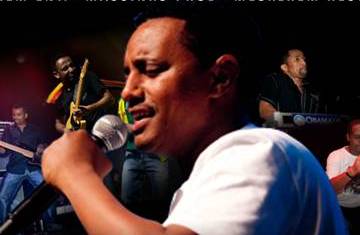 Above: Teddy Afro is scheduled to perform in New York City on
Saturday, July 17th, 2010 at 630 Second ave, b/n 34th & 35th.
Tadias Magazine
Events News
Published: Thursday, July 15, 2010
New York (Tadias) – Teddy Afro's upcoming show promises to be the city's biggest Ethiopian music event in two years.
Teddy Afro, who is renowned as Ethiopia's Bob Marley for his socially conscious lyrics, will stage a show in Manhattan on Saturday.
The last such big gathering in New York took place in the summer of 2008 when Ethiopiques enthusiasts and curious New Yorkers were treated to an astonishing fusion rock, jazz and eskista featuring singers Mahmoud Ahmed and Alemayehu Eshete accompanied by the Either Orchestra. The legendary duo were followed by saxophonist Getatchew Mekurya along with the Dutch band the Ex.
This weekend's concert by Teddy Afro is part of the artist's 2010 American tour, which was kicked off in Washington, D.C. earlier this year.
If You GO:
Teddy Afro in NYC
Sat, July 17th, 2010
630 Second ave, bet 34th and 35th Sts.
Advance tickets are $35, $40 @ the door.
VIP Package For A Group of 5 is Also Available
VIP = No waiting in line and includes bottle & table service.
VIP TIX: $350 in advance ($70 per person) or $400 @ the door.
If you're interested in buying tickets or ordering the VIP package, please call 646-436-3022.
Win Free Teddy Afro NYC concert tickets at Browncondor.com.
Related photos and videos from past events:
Slideshow: Photo Journal From the historic 2008 Ethiopian concert in New York (Tadias)
-
Alèmayèhu Eshèté with The Either Orchestra at Damrosch Park, New York, Aug 20…

Slideshow: Teddy Afro concert at the DC Armory (Saturday, January 2, 2010)
Video: Teddy Afro Pays Tribute to Legendary Singer Tilahun Gessesse in DC (2010)

Video: Teddy Afro Concert 2010 in DC (Posted by Milliano Promo)