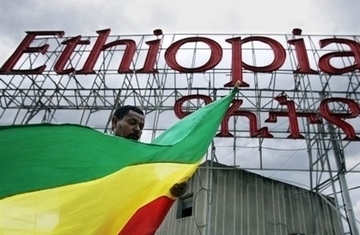 Above: 24-year-old Ethiopian boxer Molla Getachew is preparing
for the Beijing summer Olympics and faces the biggest challenge
of his career. (Photo: Euro Sport)
Ethiopia's unlikely boxer fights for gold (NBC)
Friday, July 18, 2008
ADDIS ABABA, Ethiopia (AP) – Ethiopia's runners have won at least one gold medal at almost every Olympics since 1960. The country's other athletes have been shut out.
Now a member of the Ethiopian team for the Beijing Games intends to fight his way onto the podium, against overwhelming odds.
Molla Getachew is Ethiopia's only Olympic boxer, an anomaly in a country known for its superstar distance runners. His opponents are the last in a long line of problems standing between him and a gold, including a lack of equipment, no professionals to train against and a disapproving mother.
But when the Beijing Games open in August, he will represent Ethiopia in the 112-lb. flyweight division, a weight class dominated by well-equipped fighters from Mexico, Thailand and Japan.
"I feel sad because I'm the only boxer representing my country at the Olympics," said the 22-year-old, who spends four hours a day training at an airless, grimy gym in the Ethiopian capital.
Read More.