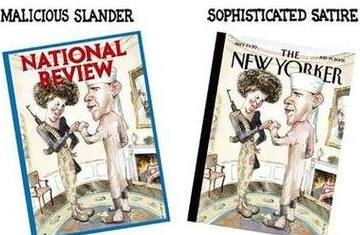 Obama Cover Has Bite, Benefits (Cagle Post)
by Clarence Page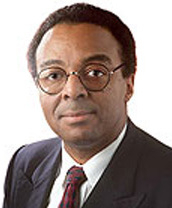 I winced. I'm sure that's what the New Yorker's esteemed editor David Remnick expected me to do when I saw the Barack and Michelle Obama caricature cover that everybody's talking about.
Every so often the quiet little liberal-leaning literary and cultural magazine presents a cover that is intended like a high-class editorial cartoon to startle us. Back in 1993, for example, during a time of high tensions between blacks and Jews, cartoonist Art Spiegelman raised hackles from some and heartfelt praise from others with a cover that depicted a black woman kissing an Orthodox Jewish man.
The controversial Obama cover by artist Barry Blitt is just as startling as that earlier cover, but not nearly as clear in its meaning. If a casual observer didn't know that the New Yorker was a liberal literary and cultural magazine, they might easily believe Blitt's drawing was trying to promote the right-wing smears that it intended to lampoon.
It shows Obama in the Oval Office dressed in Arabic robes. He is exchanging a congratulatory fist bump with his wife Michelle, who is dressed like a 1960s-style militant with a huge Afro, combat boots, camouflage pants, assault rifle and a bandolier of bullets. Osama bin Laden looks on placidly from a picture frame over the presidential fireplace in which an American flag burns like a yule log.
Editor Remnick told the New York Times that, "The cover takes a lot of distortions, lies and misconceptions about the Obamas and puts a mirror up to them to show them for what they are."
He compared Blitt's drawing to Comedy Central's Stephen Colbert who lampoons the worldview of conservative talk show hosts like Fox News… READ MORE