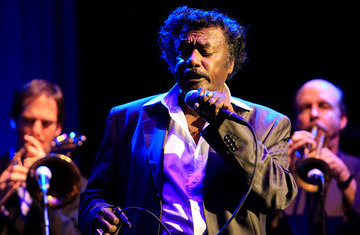 Above: With backing from the Either/Orchestra, Alemayehu
Eshete performs on the London stage. (Photo:TIME.com)
Ethiopia: Another Nation Under a Groove (Time.com)
By MICHAEL BRUNTON / LONDON
Tuesday, Jul. 15, 2008
The term 'world music' suggests sounds that are esoteric and unfamiliar — neither of which applies to Ethiopiques, one of the hippest acts of the summer of 08 that recently played both London's high-tone Barbican theater and the rather more déclassé Glastonbury Festival. And even though the music is certainly not from round these parts, its hooks and grooves are ones any veteran soul-boy or jazzer can relate to: funky brass, swirling organ, growling sax, rippling congas, ecstatic vocals — this is not the sound of a national culture struggling to make itself heard over the global noise of pop. Rather, these are artists who 40 years ago itched to be part of it, who dressed like doo-wop boys, played funk, jazz and RnB in Ethiopia's hotel bars and nightclubs and were stars of a scene that, for a while, was known as "Swinging Addis."
Onstage, the natty-tailored, balding guy on vibes is jazz arranger Mulatu Astatqé, who once played with Duke Ellington. The priest-like one in the robes is Mahmoud Ahmed, who became Ethiopia's most popular singer, and was once the spitting image of the young Sam Cooke. Alèmayèhu Eshèté still has the yelp (if not quite the glorious pompadour) of his James Brown days. And, draped in his colorful military cape and now somewhat mangey, lion's mane crown, the shamanic Gétatchèw Mèkurya would catch the eye in any age, a Sun Ra for the Horn of Africa and beyond.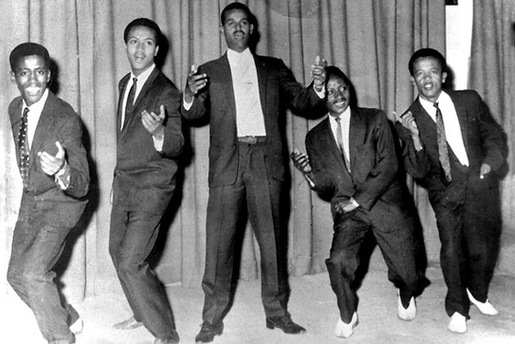 Above: Singers Mahmoud Ahmed, Tlahoun Gessesse, Tefera Kassa, Essatu Tessemma,
and Tezera Hayle-Michael were stars of Ethiopia's club scene.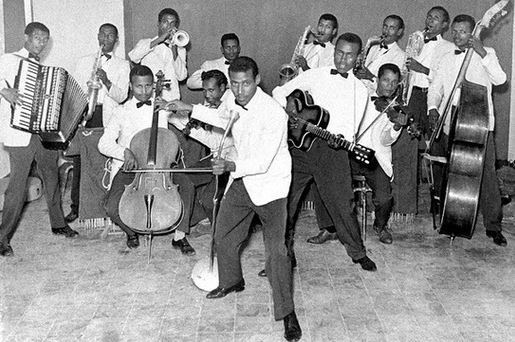 The Swinging Sixties: The Police Band strut their stuff in 1965/6.
Performing together for the very first time, these four artists, backed by the Boston-based Either/Orchestra, are playing a series of gigs this summer under the banner of Ethiopiques, the title of a growing catalogue of recordings from the Swinging Addis days unearthed by Francis Falceto, a French promoter of avant-garde and world music for whom this music has been a passion since he first heard Ahmed's record Erh Mhla Mhla played at a party in 1984. "I sent tapes of it to all my radio and DJ friends and they all replied 'What is that? Where is it from?' Nobody knew it, not even those specializing in African music." Starting at Paris's only Ethiopian restaurant, Falceto set out to find Ahmed and to rescue as many recordings of the music he could lay hands on. Along the way he has come to understand the remarkable story of its creation.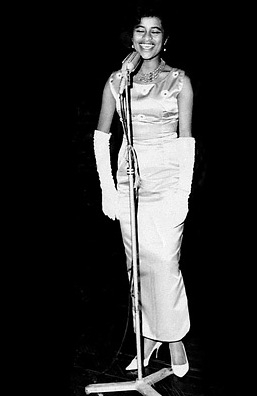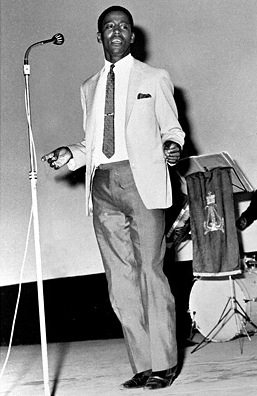 Above Left: Supremely Talented – The style and sound of singer Feqerte Dessalegn
(1966/67). Photographs: Coll.Ethiopiques, from the book Abyssinie Swing — A Pictorial
History of Modern Ethiopian Music by Francis Falceto. Right: Wowing the Crowd – Singer
Mahmoud Ahmed in his soul-man days.
Falceto's first trip to Ethiopia in 1985 was not encouraging. Eleven years of military dictatorship under Colonel Mengistu and a dusk-to-dawn curfew had all but extinguished Addis Ababa's nightlife. The few hotels in the capital offering live entertainment were mostly the haunt of business and diplomatic flotsam and hookers, while the music was desultory generic pop, played on cheap synthesizers. "It took several trips and several more years before I understood what had happened," says Falceto. "These big bands were dead. They just didn't exist any more." Incredibly, the vibrancy of Addis's musical life in the 60′s and 70′s owed its all to the municipal and military bands that were sponsored by the emperor Haile Selassie until his overthrow in 1974. Read More.
—-
Related: Golden Era: Éthiopiques Coming to America (Tadias)