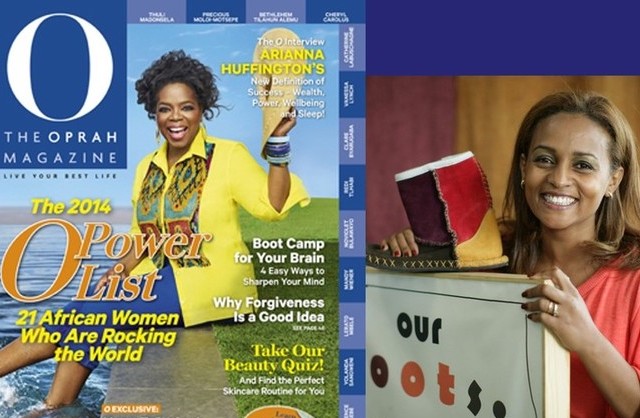 Tadias Magazine
By Tadias Staff
Published: Monday, July 21st, 2014
New York (TADIAS) — The Oprah Magazine (South Africa) has named Ethiopian businesswoman Bethlehem Tilahun Alemu, Founder and Chief Executive Officer of SoleRebels — Africa's fastest growing footwear company —  to its fourth annual O Power List featuring 21 inspiring female leaders from the African continent who are "Rocking the World." The list comes with commentaries from international celebrities such as Archbishop Desmond Tutu and Oprah Winfrey honoring the women on the list. "Our August issue of O, The Oprah Magazine has been wrapped up, and we've finalized our 2014 Women of Africa," the magazine announced.
Bethlehem, who is also scheduled to receive the 2014 Outstanding Achievement in Entrepreneurship Award given by the pan-African media company Face2face Africa at a ceremony in New York on July 26th, said in an email to Tadias Magazine that she is "elated" to be selected by Oprah Winfrey to this list. "It's a doubly sweet honor to be among such incredibly talented women."
Other honorees include Oscar winning actress Lupita Nyong'o; Founder & Executive Director DNA Project Vanessa Lynch; journalist & author Mandy Wiener; Host of Africa Business Report on BBC World News and respected business journalist Lerato Mbele; Senior Editor & Producer for Essence.com and co-founder of online magazine AfriPOP Yolanda Sangweni; Award-winning actress and Executive Producer of Elelwani Florence Masebe; and Executive Director of the Desmond Tutu Legacy Foundation, Reverend Mpho Tutu.
Learn more about the "O List" at Oprah Magazine South Africa »
—
Related:
2014 Face2face Africa Awards Preview
Join the conversation on Twitter and Facebook.