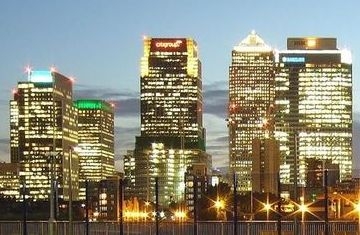 Above: Canary Wharf at twilight. (This work is licensed
under the Creative Commons Attribution 2.5 License.)
Ethiopian sues Xerox for £8million after bullying led to suicide bid (Daily Mail)
By Daily Mail Reporter
22nd July 2008
A Canary Wharf worker is claiming £8 million in compensation at an industrial tribunal today for the racist ordeal he claims he suffered while working for giant photocopying firm Xerox.
Engineer Nardos Mulugeta, 40, from Ethiopia, told how he was driven to attempt suicide twice after being routinely abused by a colleague who openly expressed racist views about 'foreigners' and support for the British National Party.
The bully wrote the word 'Go' in signing-in and job request books against Mr Mulugeta's name and said he was 'lucky he's working with us – his grandfather used to work as a servant', it was claimed.
Mr Mulugeta said bosses refused to let him attend a counselling appointment when he was referred by his GP. Read More.