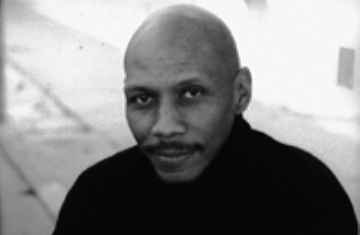 Photo by Gabriella Muttone
Publisher's Note: Steven Ivory has been a music and culture journalist for more than twenty-five years. His work has appeared in the Los Angeles Times, Essence, Vibe, and The Source, among other publications. He lives in Los Angeles, California.
This article had been published on the Electronic Urban Report (EURweb.com) and the African-American Village prior to its publication here with the author's permission in January 2003.
Steven told Tadias that Ethiopians who have read the essay have responded to him with warm words and expressions of regret.
"So many Ethiopian people have written in kindness and apology", he said. "There is no need for this, I know that the actions of a few don't speak for a whole race."
We have selected this piece from our archive with a hope that it might spark a healthy debate on the issue.
My Own Kind
By Steven Ivory
Updated: August 13th, 2008
For several years, I'd passed the restaurant while driving through that side of town. It looked like an interesting spot; I said I'd stick my head in there one day.
But when that day finally came, it reminded me of the scene in the movie "48 Hours," where Eddie Murphy ventures into a bar that happens to be a white country & western joint. My arrival was not nearly as spectacular, but I did elicit my share of curious glances.
A bartender can set the mood for a patron, and the man pouring my drink was pleasant. However, our good-natured chat about the weather and the day's headlines wasn't enough to take the chill off this room. I casually looked around the place and couldn't find one face that appeared to hold much love for a newcomer.
Taking another sip of my beer, I told myself that maybe it was just me. What did I expect, a welcoming committee? I reminded myself that many social establishments often react a little coolly to non-regulars. Maybe what I was feeling didn't have a damned thing to do with anything but familiarity.
The restaurant was more than half full, but I had the tiny bar all to myself, so I was glad that two men and a woman in the mood for libations joined me. For all the acknowledgment made, though, I might as well have been invisible. When another man moseyed in and took a seat at the end of the bar, he somehow ended up in the trio's jovial conversation. So they weren't blind or anti-social, after all. I deduced that it had to be my cologne.
Or, just maybe, it really WAS me. And maybe I really DIDN'T come in here for just a drink and cordial camaraderie. Maybe, deep, deep down inside, I'd come in here to make some kind of point. I certainly was open to conceding as much to myself.
And so, with very little chance of my self-examination being interrupted, I sat there and gave it all serious, honest consideration – and confirmed that I truly did have honorable intentions. I figured I'd come in here, have a drink, dig the atmosphere and thus add it to my list of places to go. For reasons that evaded me, it wasn't working out that way.
I couldn't ignore the irony, of course – the very notion that hundreds of years later, there'd be the issue of us getting along. For many years, I've heard all the reasons. Inevitably mentioned are issues of culture and the idea that any problems among us are, ultimately, the residual affect of slavery in America. Did that sinister deed, besides everything else, somehow drive a wedge between brothers under God's sun, a division that, after all these years, still remains?
And who says that we, in particular, must get along, anyway?
But we SHOULD … shouldn't we?
Once again alone at the bar, I was pondering it all when the bartender spoke.
"My friend, may I ask you a question?"
"Sure."
"Why did you come here tonight?"
I explained that I'd never been here before and I thought it adventurous to try something new.
"Just a drink? Or did you also hope to meet some of our women?"
It all sounds so offensive now, but you had to be there. His words came sincerely – out of curiosity more than anything else and, I suppose, concern. I thought about his question.
Maybe, I replied, I ventured in here hoping, perhaps, to discover some measure of kinship. Or, as corny as it might sound, just a little bit of myself.
"But it's Friday night, my friend," he said.
"There are many other places in this city for you to be. Would you not want to be with … your own kind?"
I know – it all could have made for some compelling banter. However, after seeking conversation over the course of two beers, all I wanted to do now was leave. I tried to pay my tab, but the bartender simply smiled.
"It is on the house, my friend," he said.
Translation: Just leave, my friend. Please.
As a Black man born and raised in America, I've dealt with prejudice, racism and mistrust in many configurations. Sometimes it is subtle and other times not so subtle, and you can encounter it anywhere, from anybody. Still, it never occurred to me that I'd face any of those things on a Friday night in an Ethiopian restaurant.
From the tiny bar I gathered up my pride and headed out in search of "my own kind" – and hoped that I'd know them when I saw them.