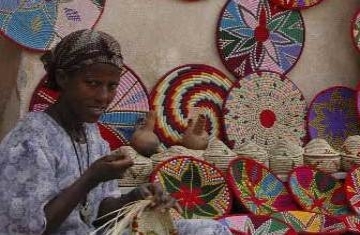 By ERIK HEINRICH
Special Contributor to The Dallas Morning News
Photo: A woman weaves baskets near Axum's Park of the Stelae in Ethiopia.
(Mark Sissons/Special Contributor)
Thursday, August 14, 2008
LOWER OMO VALLEY, Ethiopia – "Remember, take only what you need," says Johnny, our driver from Addis Ababa whose real name is Yohanes Tsegaye.
As soon as I step out of the Toyota Land Cruiser, parked in the shade of flat-topped acacia, all hell breaks lose. A crowd of Mursi – a tribe best known for the giant lip plates worn by its women – comes charging at me from the village compound.
The Mursi are in a frenzy, not because they want to welcome me to their homes. Instead, they are after lucrative photo fees demanded of picture-taking tourists who have trekked to the village of Hail Wuha, on the edge of an escarpment in one of the most isolated and inaccessible regions of Africa.
"You! You! You!" they yell at me. I am surrounded by Mursi who appear as a blur of floppy lip plates, painted faces, naked breasts and animal skins. Read More.