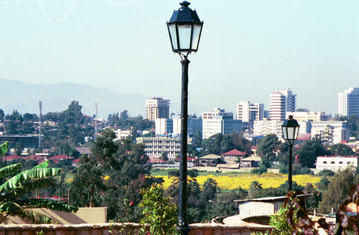 August 12th, 2008
Tamale (GNA) – Africa Welfare and Care Foundation (AWCF), a Non Governmental Organization (NGO) that assist the needy in society, is organising a 10-day health and peace walk to raise funds for the victims of war and other unfortunate crisis in Africa.
The walk, which started from Tamale on Tuesday, would end in Accra under the theme: "Africa Millennium Health and Peace Walk." It aimed at raising one million dollars in support of peace, good health, infrastructure and the provision of potable water for war victims.
The AWCF on Tuesday also embarked on a clean-up exercise in the Tamale West Hospital with a fundraising function at the Jubilee Park. Mr Richard Mosiah Ababba Allen, 41 year-old Master of Civil Law, told the media that he would walk from Tamale to Accra and then proceed to Ethiopia.
He said he had undertaken similar walks over the past 20 years soliciting for funds to support education and peace. Mr Mosiah dedicated his walk to President Kufour for his contribution to the Ghanaian economy nearly eight years in office and his role when he was the President of the African Union. He also dedicated his walk to Mr Kofi Annan, former UN Secretary General.
Mr Mosiah called on Ghanaians not to dampen the adventurous spirit of the youth but rather encourage them to come up with innovative ideas that would contribute to the nation's development. "It is time Ghanaians realized their wealth and excellence, which should go beyond the borders of Africa," He said. Mr Mosiah said his walk would take him from Ghana through Togo, Benin, Nigeria, Cameroon, Chad, and Sudan then to Ethiopia to present a White Flag to the AU President at the AU summit.
Source: GNA