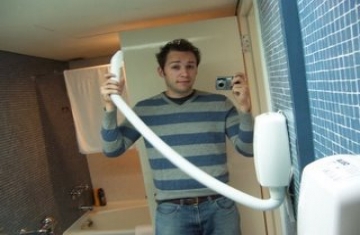 So after 24 hours of non-stop travel and almost 48 hours from a bed, I made it back to the land of safe vegetables and Diet Coke on Saturday afternoon. It was a long trip, but let's recap the fun we had in Ethiopia.
One of things I like about travel is the unexpected things that you have to deal with in your new daily routine. Some are good, some are not so good.
The Good
An awesome alarm clock, probably the best in all of Ethiopia, that not only was a breeze to set each night, but also woke me up to "rousing" Ethiopian music each morning and I was able to hook my mp3 player up to it to use it as a stereo!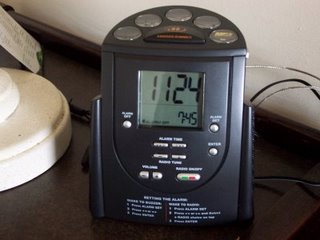 The best alarm clock in Ethiopia
Each night I got free treats in my room that rotated on a three night basis. One night was fruit, one was the dreaded veggies, and the other was dessert night! Some nights these desserts were so good that I would almost forget I was in the 3rd world.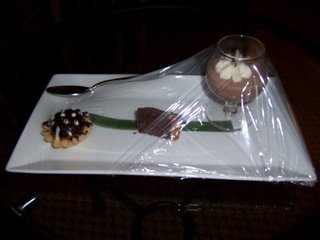 Free dessert
A third thing, which is often common on these trips, is the lack of quality tv channels in my room, thus being forced to watch and enjoy stuff I might never take the time to watch. One such jewel was Black Adder! I had seen snippets of this show on BBC America or something every now and then, but since one of the four channels I watched was BBC Prime, I got to watch this show almost every night at 8:30. As a fan of most British tv shows, I must say this is one of the best. Plus, it stars the guy who would later go on to invent Mr. Bean, but talks a lot in this!
The Bad
Not everything at the Hilton was in "The Good" category. For instance, check out this nightmare inducing Children's Menu! Is it just me or does this dog seem slightly sinister?!?!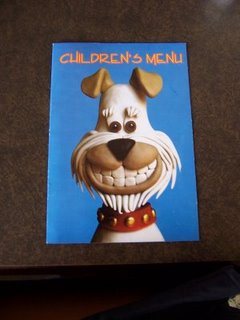 Evil-childrens-menu
And then there was this in the bathroom… Is it a blow dryer or vacuum? Care to make any wagers?
All in all, the trip was alright. If you or I ever end up in Ethiopia again, I'd highly recommend taking many trips outside of the capital Addis Ababa. The day I spent in the countryside was definitely one of my favorites and the stories and pictures from friends that took flights out to the regions made me jealous.