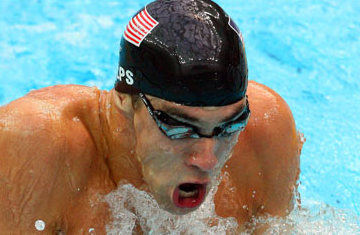 NYT
By KAREN CROUSE
Photo: Doug Mills/The New York Times
Published: August 14, 2008
BEIJING — One of the few remaining men standing between Michael Phelps and Mark Spitz at the Beijing Olympics looks as if he should be working behind the counter of a video store, not racing to ruin Phelps's cinematic ending. Read More.
40 Million Tune in to Watch Phelps on NBC (Variety)
By RICK KISSELL
Wed., Aug. 13, 2008
Auds stayed up late to watch history Tuesday night, as NBC drew its biggest crowd since the Opening Ceremony for the night's primetime action, driven by Michael Phelps' record-setting performance.
An average estimated aud of roughly 40 million were tuned in during the 10 o'clock hour to watch Phelps capture the 200-meter butterfly and his 10th career Olympic gold medal. And that aud swelled post-primetime, hitting 41.2 million in the 11 o'clock half-hour, which featured women's gymnastics and another Phelps gold medal, this one as part of a relay team.
For the duration of its coverage Tuesday (8 p.m. to 12:19 a.m.), NBC averaged a 12.4 rating/34 share in adults 18-49 — the best for any night in these Games thus far, including the Opening Ceremony. In total viewers, it came in a bit below the 34.89 million for the opening-night event. Read more.
Bigger Fires Bring California to the Brink (MSNBC)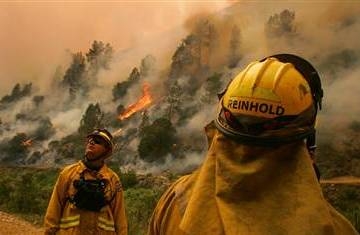 Photo: Gary Kazanjian / AP file
Aug. 13, 2008
SACRAMENTO, Calif. – Faced with hundreds of big, hard-to-control blazes, California is struggling with what could be its most expensive firefighting season ever, burning through $285 million in the last six weeks alone and up to $13 million a day.
With the worst of the fire season still ahead, lawmakers are scrambling to find a way to pay for it all and are considering slapping homeowners with a disaster surcharge that asks those in fire-prone areas to pay the most.
"There is no more fire season as we know it — the fire season is now all year-round," Gov. Arnold Schwarzenegger said while touring wildfires last month in Northern California. "That means that we don't have enough resources." Read More.