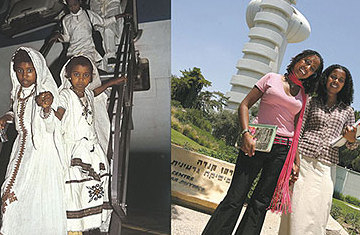 The Lompoc Record
Photo by Ricki Rosen (The Jewish Journal)
By ARON HELLER
GONDAR, Ethiopia — Sitting in a leaky, flyblown hut, a few dozen Ethiopian villagers are anxiously waiting to be transported to another world.
They have just been given word that their years of waiting are over, and that soon they will make a 2,000-mile journey by land and air with what is probably the last wave of Ethiopian immigrants to Israel.
In doing so, they join generations of Jews who have immigrated to the Promised Land. But they are flying into the teeth of a dilemma that touches the heart of Israel's founding philosophy.
For people like 48-year-old Abe Damamo, his wife and eight children, wrenching change awaits.
Like most Ethiopians with Jewish roots, they have come from the Gondar region of northern Ethiopia. Their remote village uses donkeys for transportation and has no bathrooms. Damamo has no formal education and speaks no language but his own.
He is moving to an industrialized democracy where he will have to learn Hebrew, master a cell phone, commute to work and find his place in a nation of immigrants from dozens of countries ranging from Argentina to Yemen, Australia to the United States. Read More.