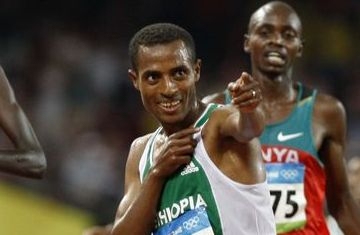 The Official Website of the Beijing 2008 Olympic Games
August 18
(BEIJING) — World record holder Kenenisa Bekele of Ethiopia confirmed his supremacy in distance running by successfully defending his Olympic gold medal in the Men's 10000m at the National Stadium on Sunday, August 17.
Bekele sliced almost four seconds off the Olympic record he set at the Athens 2004 Olympic Games, finishing in 27:01.17. The silver medalist was perennial minor medalist Sileshi Sihine of Ethiopia, who clocked 27:02.77, while Micah Kogo of Kenya won bronze in 27:04.11.
The caliber of the race was so high that the first four finishers all beat the old Olympic record of 27:05.10.
Kidane Tadesse of Eritrea controlled the pace for most of the early stages of the race, with Bekele content to sit in third position.
The pace picked up when former world record holder and two-time Olympic champion Haile Gebrselassie of Ethiopia took control at the 6000m mark. With seven laps to go, Athens bronze medalist Zersenay Tadese of Eritrea regained the lead before Koso went to the front after 8000m.
Seven runners were in the front pack with two laps remaining, but at the final lap bell Bekele pulled away from Sihine, eventually winning by 20m.
Bekele is the sixth man to have won back-to-back Olympic titles in the Men's 10000m.
The Imperious Kenenisa Bekele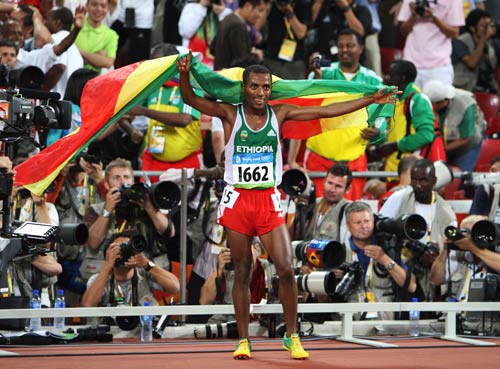 Kenenisa Bekele celebrates winning the gold. (Photo credit: Mark Dadswell/Getty Images)

Athletes compete in Men's 10000m final. (Photo credit: Xinhua)