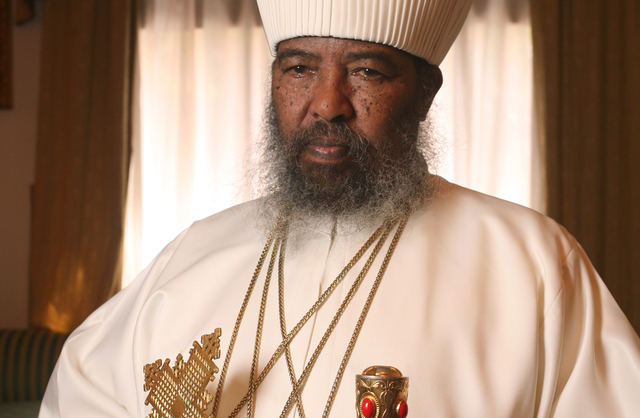 UPDATE:
Ethiopia funeral held for church patriarch Abune Paulos (BBC)
——
Ashenafi Abedje | Abune Paulos Has Died at Age 76 (VOA News)
Last updated on: August 16, 2012 2:52 PM
The leader of the Ethiopian Orthodox Church, Abune Paulos, has died at the age of 76. No details of his death were made available. He had been receiving treatment for an undisclosed illness.
Government spokesman Shimeles Kemal said a new leader will come into office based on what he called "the bylaws and canons of the Coptic Church."
Abune Paulos studied at Princeton's Theological Seminary in the US after receiving a degree in theology from Addis Ababa University. He was arrested in 1974 by Ethiopia's military dictatorship. Upon his release, Abune Paulos fled to the US, where he spent several years in exile.
He returned to Ethiopia in 1991 when Mengisu Hailemariam's government collapsed and Meles Zenawi assumed power. Shortly after, the Patriarch, Abuna Merkorios, was dethroned under disputed circumstances. The controversial process led to the election of Abune Paulos as head of the Coptic Church in 1992. Abune Merkorios and his supporters went into exile, establishing a rival synod in the United States.
Many credit the Patriarch for championing the cause of the victims of the military regime. He presided over the funerals of Emperor Haile Selsassie in 2000, Crown Prince Asfaw Wossen in 1997 and Princess Tenagnework in 2004. He also officiated at the funerals of the 60 former civilian and military leaders of the Imperial government in 1993, and the burial of Professor Asrat Woldeyes, the leading opposition leader, in 1998.
Detractors accuse Abune Paulos of being too close to the Meles government, and for failing to speak out when security forces storm churches and brutalize peaceful demonstrators. He has also been accused of vanity in overseeing the construction of his own statue in Addis Ababa in 2010.
The office of the patriarch is expected to hold an emergency meeting Friday to finalize funeral arrangements. It is not clear whether Ethiopia's Prime Minister Meles Zenawi — who has not been seen in public since June — will attend the funeral.
—
Related:
Ethiopian Church Patriarch Abune Paulos Dies (BBC)