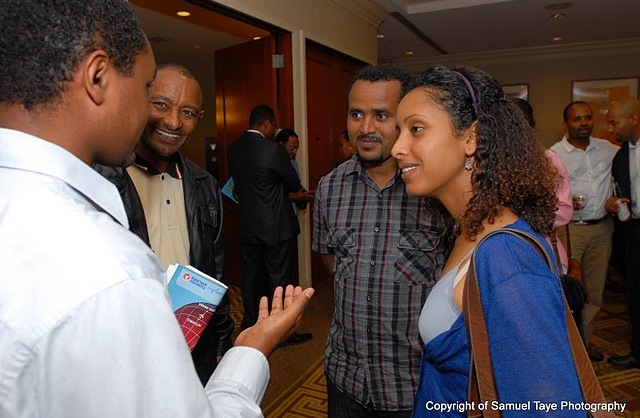 Tadias Magazine
Events News
Updated: Saturday, August 20, 2011
Washington, D.C. (Tadias) – The 6th Annual Ethiopian Diaspora Business Forum is scheduled to take place in Washington D.C. today.
In an emailed press release organizers state that this year's gathering will include both public and closed events, designed to promote diaspora investment back home. According to the press release, the public portion of scheduled activities includes a panel discussions on a range of business topics related to attracting Ethiopian-American investments in Ethiopia's economy, as well as a networking cocktail hour – sponsored by ModernETH and Altour Travel of Ethiopia.
"This year's Forum will pay special attention to the issue of financing diaspora investments with special emphasis on how to raise capital from the Ethiopian Diaspora in the US in a legal and ethical manner," the announcement said. "Other panel presentations and discussions include: USAID's African Diaspora Marketplace II $100,000 business plan competition, Investment Opportunities in Ethiopia, Ethiopia's WTO Accession and Diaspora, and the Ethiopian Government's Proposed Diaspora Policy."
The conference will include a private dinner and award ceremony featuring businessman Zemedeneh Negatu as the keynote speaker. Other special guests include the D.C. Mayor Vincent C. Gray, and VP of OPIC Mimi Alemayehou.
The event is hosted by the website The Ethiopian American and by USAID VEGA AGOA.
———–
If You Go:
6th Ethiopian Diaspora Business Forum,
Saturday, August 20, 2011
Grand Hyatt Washington at Washington Center
(1000 H Street NW) , Washington DC
Contact phone: 202-527-0980
Event Program & Time:
1:30 PM Registration
2:00 – 5:30 Opening & Discussion
5:30 Cocktail Hour
7:00 – 9:00 Dinner
Click here for the latest update about this event.
To attend, you can register at www.theethiopianamerican.com.