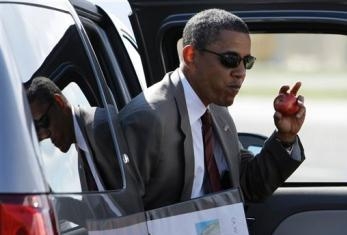 By THOMAS M. DeFRANK
DAILY NEWS WASHINGTON BUREAU CHIEF
WASHINGTON – Barack Obama's trailblazing use of the Internet to fuel his campaign has just taken another historic turn: he's offering Web fans instant notice of his vice presidential choice.
"Barack is about to choose a running mate, and he wants you to know first," campaign manager David Plouffe writes in a new message. Read More.
Photo/Alex Brandon (AP)
Tuesday, August 19, 2008
CHICAGO (AP) — Democratic presidential candidate Barack Obama planned a typical day of campaigning Tuesday while speculation flared over when he would announce his choice of running mate.
Obama's campaign schedule was open after he concludes a bus tour of North Carolina and Virginia on Wednesday, leaving free the end of the week for an announcement. The Democratic National Convention is set to begin next Monday.
The list of potential running mates is widely believed to be down to four names: Virginia Gov. Tim Kaine, Delaware Sen. Joe Biden, Indiana Sen. Evan Bayh and Kansas Gov. Kathleen Sebelius. Obama's major rival for the nomination, Sen. Hillary Rodham Clinton of New York, was seen by some Democrats as a longshot pick.
Only Obama, his wife, Michelle, a handful of his most senior advisers and his two-member search committee know for certain who has been vetted and discussed. Staffers were already in place to aid Obama's pick, including more than a dozen seasoned operatives who have set up shop in a section of the campaign's Chicago headquarters. Read More.