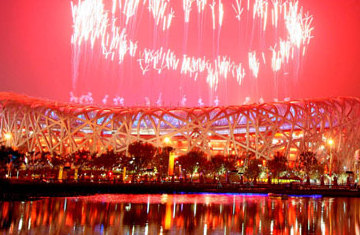 By Alan Abrahamson, NBCOlympics.com
Sunday, August 24, 2008
BEIJING – To the roar of pyrotechnics over the Bird's Nest, the symbol of a new China, and a simultaneously timed circle of yet more fireworks over Tianmen Square in central Beijing, the 2008 Summer Games drew Sunday night to a close, an Olympics that in virtually every regard made history.
The Games came to the end of their 17-day run after a ceremony — a party, really — featuring bouncing and flying men, drum carts, rotating poles, light wheels precisely 2.008 meters in diameter and 1,148 silver bell-wearing dancers in yellow dresses, all of it a lead-up to the entry of the athletes of the world, who by tradition on the night of closing ceremony mingled together, without regard to nationality, in the center of the stadium.
The palette of colors on the field, the rousing lights around and above – all of that in turn served as mere prelude to the moment when the Olympic cauldron was extinguished, the stadium suddenly so hushed the hiss of the gas feeding the huge flame above the Bird's Nest rim clearly audible.
And then it was gone. Read More.