Tadias Magazine
By Tadias Staff
August 25th, 2017
New York (TADIAS) — The Mayor of San Jose, California, Sam Liccardo, will join the Ethiopian community for Enkutatash celebration on Saturday Sep 9th.
Hosted by the Ethiopian American Council the New Year's party will follow the annual Ethiopian heritage flag raising ceremony at the New City Hall of San José a day earlier supported by the City Council. According to the announcement this event will honor the Ethiopian Nurses Association of California — a non-profit organization that provides health education and awareness to the Ethiopian Community in the Greater San Francisco Bay Area. The press release added: "The association will be honored for its many years of service by working with community-based organizations, corporations, and other entities to sponsor health fairs and health education and outreach for the Ethiopian-American community."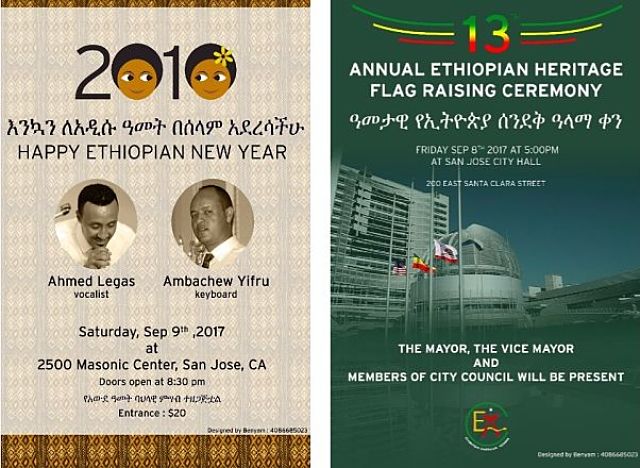 (The event poster: Courtesy of EAC)
Organizers say tickets for Enkutatash party with Mayor Liccardo are limited and can be purchased at two locations: Gojo Ethiopian Restaurant (1261 W San Carlos St, San Jose, CA 95126) and Kategna (1663 W San Carlos St, San Jose, CA 95128).
In addition, the Ethiopian Community Services (ECS) will hold its 13th annual outdoor Enkutatash festival on Sunday, September 10th from 1:00 PM. -7:30 PM at Guadalupe River Park (Arena Green West). ECS says city officials and other dignitaries will also be in attendance along with thousands of Ethiopians & Ethiopian Americans.
—
If You Go:
San Jose New Year's party (Enkutatash)
On Saturday Sep 9th, 2017
Time: 08:30pm
2500 Masonic Dr San Jose
Saturday Sep 10th, 2017
Ethiopian Community Services (ECS) Enkutatash Festival
Guadalupe River Park (Arena Green West)
San Jose, CA
Info@ecssanjose.org or 408-482-6497
Related
Ethiopia Fest Chicago 2017 Ready for Enkutatash Celebration
Join the conversation on Twitter and Facebook.