Above: By Steve Donnelly. The Sidewalk: acrylic on canvas; 24″ x 30″. Featured Piece.
New York: The Girls Gotta Run Foundation, Inc., raises money to buy athletic shoes for Ethiopian girls to support their participation in sports and help them continue their formal education.
In her December 2005 Washington Post article ("Facing Servitude, Ethiopian Girls Run for a Better Life"), Emily Wax pointed out that Ethiopian girls' enrollment in school is among the lowest in the world, and women and girls are more likely to die in childbirth, due to early marrige, than reach sixth grade.
Ethiopia also has the highest rate of vaginal fistulas, a tearing of the vagina during childbirth that requires painful reconstructive surgery, often unavailable, in the world; and one of the largest caseloads of AIDS, forcing many girls to quit school to care for sick or widowed relatives.
Today, however, seven of the 10 top-earning athletes in Ethiopia are women.
Many girls and their parents have begun to see careers as professional runners as viable options in a country where girls as young as 12 can be sold as brides by parents desperate for dowry payments.
Many who train in order to stay in school and keep their options open, can, with the help of caring others, overcome many of the obstacles in their way.
Getting athletic shoes, however, is tremendously difficult. Inspired by their spirit and determination, and moved by their plight, a group of artists and committed others came together in early 2006 to form an organization to raise money to buy shoes for the girls; the Girls Gotta Run Foundation was born.
The group has organized an exibition at Phoenix Gallery in New York titled "Shoes, Shoes, Shoes". The show will open on September 5, 2007.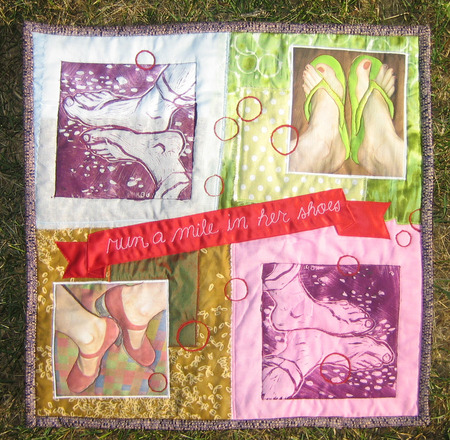 Above: By Kay Bailey. Run a Mile in Her Shoes: quilt; 18 x 18″, with pictures on it including a linoleum cut printed onto cotton with acrylic paint and two photographs printed on cotton with an ink-jet printer. The quilt was machine pieced and sewn with free-motion stitching. Featured Piece.
Related Links and Tadias Stories:
The Girls Gotta Run Foundation, Inc


Inside the Fistula Project (Tadias, OCT-NOV 2003)



"It is the oldest medical cause in the world. There is currency dug out of pyramids containing images of fistula, yet in the 21st century it is the most neglected cause," Dr. Catherine Hamlin tells us. While the last American hospital for fistula patients closed its doors in 1895, the first one of its kind opened almost 8 decades later in Ethiopia. Since its inception in 1974, the Addis Ababa Fistula Hospital founded by Dr. Reginald and Catherine Hamlin has treated over 25,000 women, the majority of whom have been cured and have returned to their villages to live healthy, normal lives. Inside the Fistula Project
She Did It Again! Photo Highlights from Tirunesh Dibaba's Victory in the Big Apple


Queens, Spies, and Servants: A History of Ethiopian Women in Military Affairs


If you would like to advertise with us, please send us an e-mail: info@tadias.com