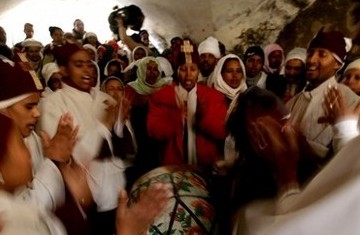 Ethiopian Reporter
Photo: Getty Images
By Yelibenwork Ayele
Saturday, 30 August 2008
Addis Ababa, Ethiopia, – The Ethiopian Orthodox Church, in a press conference, said it would hold a great event next Sunday at the Millennium Hall commemorating St. Yared, the Ethiopian author of cantatas, traditional education and various pieces of religious literature.
Zema or the chant tradition of Ethiopia, particularly the chants of the Ethiopian Orthodox Tewahedo Church, is attributed to St. Yared, a composer and a choreographer who lived in Aksum in the 6th century AD. He is credited for inventing the Zema of the Church; the chant that has been in use continuously for the past 1500 years. His music has defined the ritualistic feature of all the major fasts and feasts of the Church.
St. Yared was born to a family of a long line of church scholars in Axum in the sixth century. At the age of six he was assigned to a priest so that he could learn, but Yared turned out to be a poor student and was sent back to his parents. After his father passed away, his mother gave him away to her brother, Aba Gedeon, who was then a well known priest-scholar of the church of Axum Zion, to look after his education. Read More.
Related:
St. Yared – the great Ethiopian composer (Tadias)