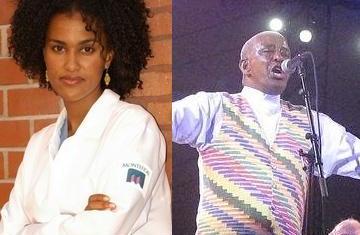 Above: Dr. Mehert Mandefro, member of White House Fellows
Class of 2010, will deliver the keynote address at the Gemini-
Health Care Group's annual event, while the evening 's music
segment will be headlined by cultural-icon Mahmoud Ahmed.
Tadias Magazine
Events News
Updated: Friday, September 3, 2010
New York (Tadias) – The 3rd Annual Fundraising Gala for Gemini Health Care Group, a U.S. based NGO that focuses on providing pediatric medical services and professional training in Ethiopia, is scheduled to take place in Arlington, Virginia, on Saturday, September 25, 2010.
According to Zeithuna K. Ebba, GHCG's Public Relations Officer, the upcoming event will feature inspirational speakers and plenty of entertainment. "We are honored to have Dr. Mehret Mandefro deliver the Keynote address," Zeithuna told Tadias Magazine. "We are also very excited to announce that legendary singer Mahmoud Ahmed will grace the entertainment part of the evening."
The PR Officer said the 2010 fundraiser will include live and silent auctions of paintings and other donated items. "The live auction will highlight works by a diverse group of international artists, including the New York-based Japanese portrait painter Kumiko Buller, who donated her favorite painting of young Obama," Zeituna said. "Other participating artists include Dilip Sheth, Solomon Asfaw and Debebe Tesfaye." The live auction will be hosted by the Maryland based multimedia marketing and promotional network, Tebabu and Associates.
According to the evening's program, the gala will also honor neurologist Dr. Enawgaw Mehari, Founder and President of People to People (P2P).
If You Go:
3rd Annual Fundraising Gala
Gemini Health Care Group
Saturday, September 25, 2010 at 7pm
The Sheraton National Hotel
900 S. Orme Street,
Arlington, VA 22204
To RSVP call 914-826-6421
www.ghcg.org
—
Cover Image: Dr. Mehret Mandefro (Photo courtesy of GHCG); Mahmoud Ahmed, pictured at Damrosch's Park, NYC, on Wednesday, August 20, 2008. (Photo by Trent Wolbe/Tadias File).
Video: Dr. Ebba K. Ebba, Founder of Gemini Health Care Group, on 50 in 52 interview (2009)