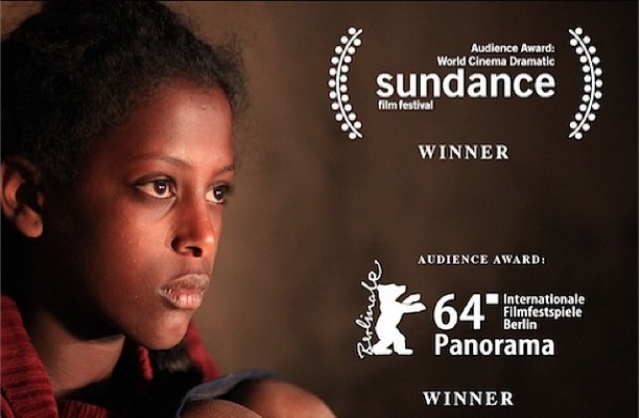 Tadias Magazine
By Tadias Staff
Published: Thursday, September 4th, 2014
New York (TADIAS) – The much anticipated Ethiopia premiere of the award-wining film Difret took a dramatic turn on Wednesday when police informed the director and producers of the film that the screening must be halted due to a court order. Prior to the interruption, a video of Executive Producer Angelina Jolie thanking the Difret team was played to the audience.
In a recording of the interruption Director & Writer Zeresenay Berhane Mehari announced to the audience that they had received news of a court order barring the screening. Regarding the premiere at the National Theater, Zeresenay told the audience: "The Ministry of Culture was aware of it, the government was aware of it," and added that the organizers had not received any information of pending issues. Details of the court order have not yet been released.
Difret, which won the World Cinema Dramatic Audience Award at the 2014 Sundance Film Festival and the Panorama Audience Award at the Berlin International Film Festival, is based on a true story and chronicles the ordeal of a teenager who was a victim of telefa — a traditional custom of marriage by abduction in Ethiopia — and her attorney Meaza Ashenafi's success, against all odds, in helping to free her client on the grounds of self-defense, and subsequently outlaw abduction for marriage in Ethiopia.
The film has since been screened in various U.S. cities including New York and Silver Spring as well as worldwide including at Locarno Film Festival in Switzerland; Durban International Film Festival in South Africa; Jerusalem International Film Festival in Israel, and Sydney International Film Festival in Australia.
A Huffington Post article entitled "Difret: Building a Culture of Courage" was published today by producer Dr. Mehret Mandefro stating "Difret can be more than a film: we hope it will stimulate a global social action campaign that empowers people to build a culture of courage that supports and protects women and girls."
The film's other producers include Leelai Demoz, Executive Producers Angelina Jolie, Julie Mehretu, Jessica Rankin, Francesca Zampi and Lacey Schwartz.
—
Related:
Tadias Interview with Zeresenay Mehari & Mehret Mandefro
'Difret' Wins Panorama at Berlin Film Festival
Ethiopian film confronts marriage by abduction (BBC)
'Difret' Wins World Cinema Dramatic Audience Award at Sundance Festival
Tadias Interview with Filmmaker Yidnekachew Shumete
Video: 'Difret': Audience Reaction at 2014 New African Films Festival in Silver Spring, Maryland

Join the conversation on Twitter and Facebook.