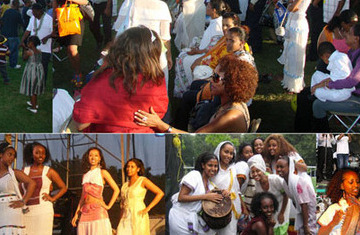 Above: 12th annual Ethiopian Day Celebration, hosted by the
Ethiopian Association in the GTA- scheduled for this weekend.
Tadias Magazine
Events News
Published: Tuesday, September 7, 2010
New York (Tadias) – Ethiopian Torontonians are gearing up for their city's 12th annual Ethiopian-Canadian Day Celebration, scheduled to take place this coming weekend at Christie Pits Park in Toronto.
The day long event features a variety of booths, arts, crafts, food and live entertainment – including Ethiopian music, reggae and other African grooves, organizers announced.
The yearly festivities, which also serve as a celebration of enqutatash (New Year) for the estimated 50,000 Ethiopians in the Greater Toronto Area, is organized by The Ethiopian Association in the GTA and Surrounding Regions. "It is with sense of obligation to preserve and promote our heritage that the Ethiopian Community in Toronto has taken over the task of organizing such an event," the organization noted on its website following last year's activities. "As in the past, our Association took charge of planning, budgeting and coordination of tasks."
According to Yeamrot Taddese, Tadias Magazine's contributing reporter from Toronto, the upcoming event is a high-spirited affair for Ethiopians in Canada.
"In no other festivity do local Ethiopians' spirit, talent and culinary skills shine as they do on the annual day-long Ethiopian New Year's celebration," Yeamrot wrote in her recent series of articles about the city's Ethiopian soccer team Ethio Star's pending bid to host the 2011 tournament managed by the Ethiopian Sports Federation in North America (ESFNA).
"The event, also dubbed 'Ethiopian Day,' is the most anticipated gathering in the community that features live music, rising Ethiopian entrepreneurs, social justice advocates and lots of injera."
If You Go:
12th annual Ethiopian-Canadian Day Celebration
Saturday, September 11, 2010
10am to 11pm
at Christie Pits Park
Learn more at Ethiocommun.org
–
Cover Image: Photos from the event flyer.
Note: Is your city hosting Ethiopian New Year's celebration? Send us the details at info@tadias.com.