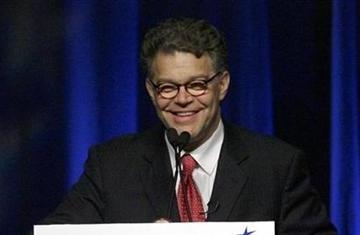 By THE ASSOCIATED PRESS
Published: September 9, 2008
ST. PAUL, Minn. (AP) — Comedian Al Franken grabbed the Democratic nomination Tuesday for U.S. Senate in Minnesota, setting up a showdown with Republican Sen. Norm Coleman.
Franken, who gained fame as a "Saturday Night Live" cast member, easily beat six other candidates chasing the Democratic nod. Coleman trounced his only opponent, an expatriate living in Italy.
Minnesota voters joined those in six other states and the District of Columbia in deciding general election matchups. Nominations for House, Senate and governor were on the line, along with the fate of another TV celebrity: Kevin Powell, a former cast member on MTV's "Real World," who lost his bid for Congress in New York.
Franken's celebrity has both helped and hurt him. His coast-to-coast recognition enabled him to amass an impressive bankroll for a first-time candidate, but archives full of racy material provided ammunition to Republicans and his most visible Democratic rival, attorney Priscilla Lord Faris. Read More.