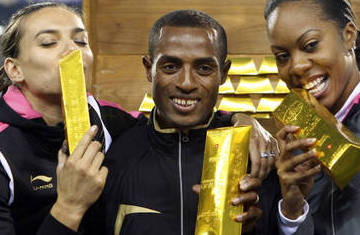 Examiner.com
By Tanya Menoni
September 10, 2009
According to Addis Fortune magazine, Kenenisa Bekele has specific plans on how he will spend his share of the jackpot earned in the IAAF Golden League events. Bekele won all six of his events in the Golden League series, which earned him a $333,333 check. The jackpot is $1 million, but the total was divided among three athletes who won their events — Bekele, sprinter Sanya Richards and pole vaulter Yelena Isinbayeva. Read More.
Kenenisa Bekele shares $1m jackpot with Richards and Isinbayeva
–
By Associated Press
Fri Sep 04, 2009
BRUSSELS – American 400-meter runner Sanya Richards, Pole vaulter Yelena Isinbayeva and 5,000 champion Kenenisa Bekele each secured a third of the $1 million Golden League jackpot by winning all six of their European meets. World champion Richards led the entire race at the Van Damme Memorial. She set the season's leading time of 48.83 seconds to claim the prize. Olympic champion Christine Ohuruogu of Britain was second in 50.43. Isinbayeva only needed a vault of 15 feet, 5 inches to beat Poland's Monika Pyrek. Bekele was not as dominant, but used a finishing kick to hold off fellow Ethiopian Imane Merga.
Read more.
—
Join the conversation on Twitter and Facebook.