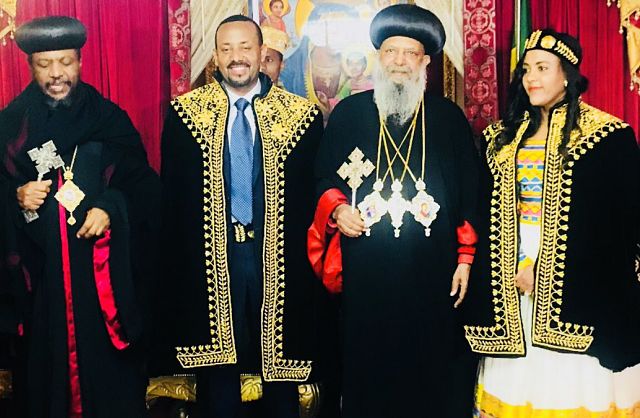 Tadias Magazine
By Tadias Staff
Published: September 10th, 2018
New York (TADIAS) — This week Ethiopians celebrate enkutatash (Ethiopian new year) amid a momentous internal transformation that has captivated the imagination of the world.
In a little more than than 150 days under the new leadership of Prime Minister Abiy Ahmed Ethiopia has implemented one historic reform after another that's indeed worth celebrating.
From releasing political prisoners and welcoming home fellow Ethiopians from exile to making peace with neighboring Eritrea as well as with the exiled Ethiopian Orthodox church, and promising to hold free and fair election in 2020, this has been a year for the ages.
More importantly, as we speak the country is revising some of its worst draconian laws — such as the Charities & Societies proclamation, the Anti-Terrorism proclamation, and the media law– that in the past were employed as tools to suppress freedom of expression and association.
In the latest positive development that's capturing international headlines former Mayor-elect of Addis Ababa and opposition leader, Berhanu Nega, became the latest high profile individual to return to Ethiopia after more than a decade in exile. Per AFP: "Berhanu Nega, the leader of the former armed movement Ginbot 7, returned with scores of other senior members of the group, after reformist Prime Minister Abiy Ahmed removed the group from a list of "terrorist" organisations in July."
And on the same day the Ethiopian Orthodox Tewahedo Church gave a well-deserved special award to PM Abiy Ahmed and First Lady Zenash Tayachew for their role in helping to bring peace and reconciliation to Ethiopia, Eritrea and the region. The state affiliated Fana Broadcasting Corporate (FBC) reports: "Prime Minister on the occasion said "the award belongs to all who fought selflessly and prayed for this change to happen," according to Fitsum Arega, Chief of Staff at the Prime Minister's Office."
PM Abiy handed over keys to His Holiness Abune Merkorios, the 4th Patriarch of the Ethiopian Orthodox Tewahdo Church, who returned to his homeland recently. The house is refurbished to make it suitable for living after being evacuated by the former Mayor. #Ethiopia pic.twitter.com/lFfNrGbPXc

— Fitsum Arega (@fitsumaregaa) September 9, 2018
"Ethiopia is a rarity in Africa," declared the website Stratfor, which is known for its timely and informative geopolitical analysis, in a recent assessment focusing on current affairs of Ethiopia. "It has existed in a coherent form for more than 2,000 years and largely escaped European colonization. The country's lineage — tracing back to the kingdom of Aksum in the first century — makes it stand out among its neighbors, and its advantageous location between the ancient trade routes of Rome and India makes it stand out on a map." The analysis added: "The country's recent push for reform and desire for strategic partnerships in the Horn of Africa provides a timely reason to explore Ethiopia's geopolitical environment."
Regarding "the Abiy Factor," Stratfor rightly points out that "Abiy is a new kind of Ethiopian leader: He is young compared to his predecessors, at 42 years old; [and] Abiy is reaching out to different ethnic groups, ending draconian security measures, and promising free and fair elections in the years ahead."
If successful we may once again become a role model for the rest of Africa and beyond.
We wish all of you a Happy New Year!
—
Related:
U.S. Embassy Addis Ababa: Ambassador Mike New Year Message
PM Abiy Ahmed's US Tour in Pictures
Join the conversation on Twitter and Facebook.