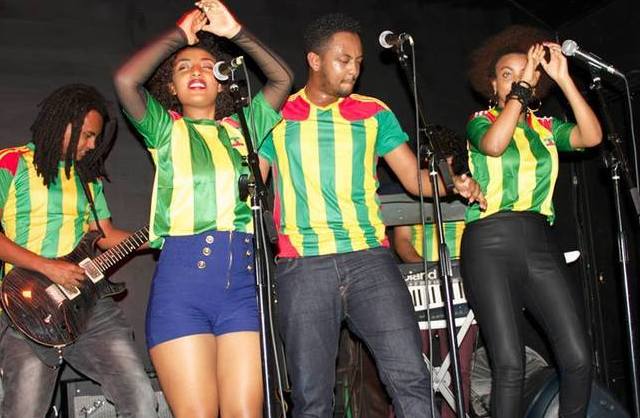 Tadias Magazine
Events News
Updated: Friday, September 13th, 2013
Washington, D.C. (TADIAS) — The Ethiopian rock group Jano Band will conclude their well-received first American tour later this month in Washington, D.C.
Jano is set to perform at Ibiza Nightclub on Saturday, September 28th, for what organizers say will be the band's final U.S. debut concert.
The ten-member rock band began their 2013 tour on July 4th at the historic Howard Theatre in Washington, D.C., and subsequently at S.O.B's and at Harlem's Ginny's Supper Club in New York City in August. Jano also made an appearance in Atlanta (September 1st), Los Angeles (September 7th), Las Vegas (September 10th), and is scheduled to play in the Bay Area (September 14th).
—
If You Go
Jano Band's Last Debut Show in America
Saturday, September 28th, 2013
Ibiza Nightclub DC
1222 First Street, NE Washington, DC 20002
For more info, please call:
202.440.4301 or 201.220.3442
www.facebook.com/JanoBand
Photos: Jano Band at Ginny's Supper Club in Harlem on August 28th, 2013 (Tadias Magazine)

Video: Jano's first U.S. concert on July 4th at Howard Theatre in D.C. (Tadias Interview)

—
Join the conversation on Twitter and Facebook.