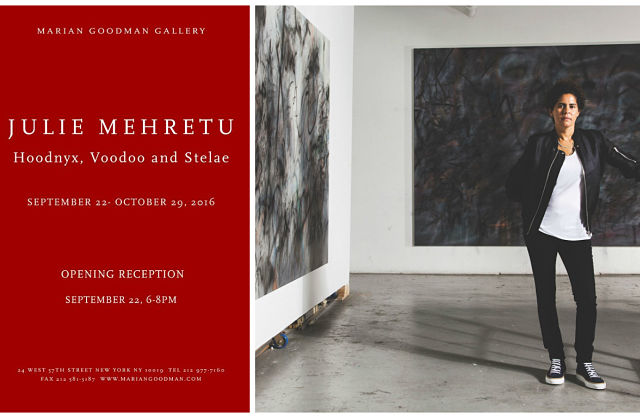 Tadias Magazine
By Tadias Staff
Published: Friday, September 16th, 2016
New York (TADIAS) — In a recent interview with Cultured Magazine Julie Mehretu said that "Art's job is to complicate as much as possible. That's what we want art for; that's what we want poetry for -— to be full of contradictions, or to expose contradictions. That's where radical possibility exists. Imagining other possibilities is how things change."
Mehretu's upcoming solo exhibition at Marian Goodman Gallery in NYC (September 22 – October 29, 2016) entitled Hoodnyx, Voodoo and Stelae does exactly that: helps us imagine change, contradictions and complicated other possibilities.
"A series of new paintings will be on view, accompanied in the Third Floor Project space by a new series of drawings, and a large-scale editioned etching, Epigraph, Damascus, 2016," the press release stated. In addition, "a monograph focusing on Julie Mehretu's recent work, from 2012 to the present, will be published by Marian Goodman Gallery in the Fall 2016. It will feature a new essay by Glenn Ligon."
Describing the new paintings that were developed this year the gallery noted how "bold and spirited mark-making merges with an ardent gestural cadence to introduce works at once epic and intimate. Steeped with references from classical mythology and Egyptology, to graffiti, abstraction, poetry and politics, Mehretu's new paintings capture a gestural force unseen in her work before. Oscillating in viewpoint through their multiple layers of both valiant and minute marks, these paintings insinuate something of a survey of the annals and multiplicities of history, across both politics and art."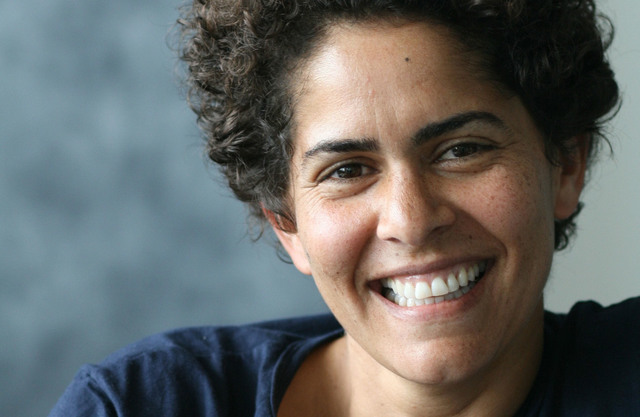 Julie Mehretu. (Photo: By Teju Cole)
Julie Mehretu was born in 1970 in Addis Ababa, Ethiopia and raised in Michigan, USA. In 1997 she obtained an MFA in painting and printmaking from the Rhode Island School of Design, and won the MacArthur "Genius" Fellowship in 2005. Her paintings are part of the Museum of Modern Art's (MoMA) permanent collection.
She has received international recognition for her work, including, in 2005, the American Art Award from the Whitney Museum of American Art, New York, and the prestigious MacArthur Fellows Award. Mehretu is currently working on large-scale painting for the San Francisco Museum of Modern Art (SFMoMA), and recently exhibited her artwork in Addis Ababa, Ethiopia at the Modern Art Museum Gebre Kristos Desta Center in collaboration with the U.S. Embassy in August 2016.
—
If You Go:
Marian Goodman Gallery presents solo exhibition by Julie Mehretu
Hoodnyx, Voodoo and Stelae
September 22 – October 29, 2016
Opening reception: Thursday, September 22nd, 6-8 pm
24 W 57th St #4, New York, NY 10019
Phone: (212) 977-7160
www.mariangoodman.com
Related:
Insisting on Opacity: Julie Mehretu (Cultured Mag)
Join the conversation on Twitter and Facebook.