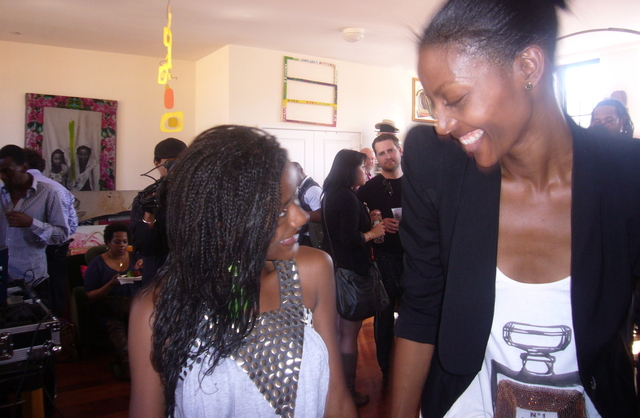 Tadias Magazine
Events News
Monday, September 19, 2011
New York (TADIAS) – Chef Marcus Samulesson and his wife Model Gate Maya Haile hosted "Brunch for the Horn of Africa" this weekend. The sold-out fundraiser for famine relief, held at the couple's Harlem home on Sunday, was attended by a diverse crowd of friends, supporters, families with children, local residents and even some individuals who drove in from nearby states. It was a heartwarming and successful event.
Maya, who prepared Ethiopian food for the event, said she will travel to the Ethiopia/Somalia border in the next few weeks to deliver donations. "It will not be cash," she said. "I will take needed-materials that will be purchased." She said she will document her interaction with the victims and tweet her progress. You will be able to follow her through the hash tag #MayaHaile on the Twitter feed (@MarcusCooks) or through the MarcusSamuelsson.com website.
A young Ethiopian-American couple who attended the event said that they came from D.C., driving for three hours to be part of the gathering. Samulesson said he hopes his event serves as a launching pad for Ethiopians to convene similar kinds of get-togethers across the country to assist the famine victims at home. "This is just a kick-off event and we hope people everywhere can come together in a similar way," he said. "People at this event gave $50, $100, $200. It is not much and it does not take a lot, but it makes a big difference to those who are starving in Ethiopia, Somalia and other places." Marcus added Western countries are currently preoccupied with major problems of their own and are not responding urgently to the unfolding crisis in East Africa. "12 million are going hungry," he said. "As humanitarians, as Ethiopians, it is left up to us to help our people. It is our responsibility"
Entertainment was provided by DJ Mengie NYC who treated guests with his signature selections of contemporary Ethiopian grooves. Attendees who dropped by included the Ethiopia-based Reggae Singer Eyob Mekonnen (who had performed at SOB's in Lower Manhattan the night before), Ethiopian American Maaza Mengiste (Author of the novel Beneath the Lion's Gaze) among others.
The video of interviews from the fundraiser will be posted shortly. In the mean time, you may browse photos from the event posted on our Facebook page.
–
Tadias is a media sponsor of Brunch for the Horn of Africa.
–